Japanese firm IHI continues to see weakness in its civil aircraft engines business owing to the coronavirus pandemic.
"Sales of engines and spare parts in the civil aero engines business is greatly decreasing owing to the drastic decline in demand for aero transportation and the deterioration of business conditions for airlines," says IHI.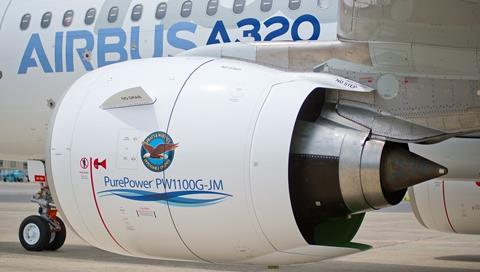 It notes that domestic air travel demand in some countries is picking up, but that immigration restrictions are hurting demand for international. The company believes, however, that demand for small and medium-sized engines with good fuel efficiency has bottomed out, yet warns that "it will take several years to recover completely."
The company made the remarks in its consolidated financial report for the first six months of its 2020 fiscal year ended 30 September.
In the six months of its 2020 financial year to 30 September, IHI's Aero Engine, Space, and Defense business swung to an operating loss of Y15.5 billion ($147 million), compared with an operating profit of Y13.3 billion in the first six months of the 2019 financial year.
It attributed the weaker operating performance to falling revenues in the normally profitable area of providing spare parts for aftermarket supports.
Revenues at the unit fell 48.3% to Y96.8 billion.
The company forecasts that its civil aero engines business will continue to struggle in the second half.
It notes that it shipped 403 engine shipsets in the second quarter to 30 September, down from 700 a year earlier. For the full 2020 financial year, it expects to ship 850 shipsets, compared with 1,571 for the 2019 financial year.
The company provides components for major engine types such as the International Aero Engines V2500; the GE Aviation GE90, CF34, GEnx, and Passport 20; and the Pratt & Whitney PW1100G.
IHI also produces the IHI F7 high-bypass-ratio engine for the Kawasaki P-1 maritime patrol aircraft, and the experimental XF9-1 engine related to Japan's F-X fighter, which will be developed by Mitsubishi Heavy Industries.