Spirit AeroSystems is performing engineering analysis and "rework" on Boeing 787 components as part of Boeing's broader effort to address 787 quality issues.
Boeing has said the issues involve the 787's fuselage, and as a result halted deliveries in November 2020.
"We've been working very closely with Boeing, in terms of trying to understand the whole production system, and doing the analysis that they have requested," Spirit chief executive Tom Gentile said on 23 February.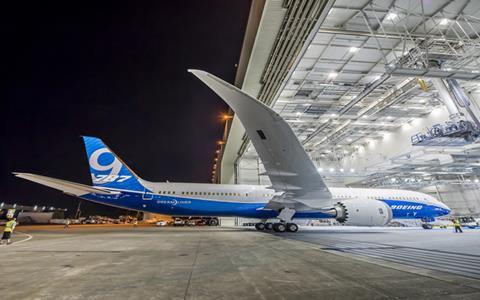 "In some cases, it may require rework. We have started some rework," he adds during Spirit's 2020 earnings call.
Boeing has described the problem as a "skin flatness issue" at "fuselage-join areas". The company will resume 787 deliveries no sooner than sometime this month, Boeing chief executive David Calhoun said in January.
Wichita-based Spirit makes 787 forward fuselages, engine pylons and forward components of the jet's wings.
Boeing has already launched its own analysis of the issue.
"They've asked us to perform similar engineering analysis on the sections that we do… We are doing that analysis. We are working with them to understand the results," Gentile says of Boeing.
"You do the engineering analysis and you understand whether the area is acceptable as it is or if it could require some rework," he adds. "To the extent that we need to change some of our production process in the future, we will do that."
The 787 review comes as Spirit adjusts to rapidly declining widebody production rates.
The aerostructures manufacturer delivered components for just 20 787s in the fourth quarter of 2020, less than half the 42 it delivered in the same period of 2019.
Boeing is reducing 787 production to five jets monthly in 2021, down from a pre-pandemic level of 14 monthly.
Spirit is already at the five-monthly rate, Gentile says.
The company had initially expected to reach the five-monthly rate in April 2021. But Boeing subsequently moved the reduction forward, to take effect in the "January-February timeframe", says Spirit chief financial officer Mark Suchinski.
Spirit's production of A350 components slipped to just 11 sets in the fourth quarter of 2020, down from 30 sets in the same period of 2019, it reports.