Conversion of the first passenger Boeing 777-300ER into a freighter has formally commenced under a programme overseen by Israel Aerospace Industries and leasing firm GECAS.
IAI states that the development phase has been completed and a structural and modification phase has commenced.
It expects the conversion – into a 777-300ERSF – to take around 130 days.
The modification includes fitting a new cargo door, reinforcing the aircraft's cabin floor, and adapting the twinjet's electrical systems.
IAI Aviation Group executive vice-president Yossi Melamed says the project has taken two years to reach this point.
"We have invested thousands of hours coupled with engineering and logistical efforts, in order to reach this moment in accordance with the original schedule," he says.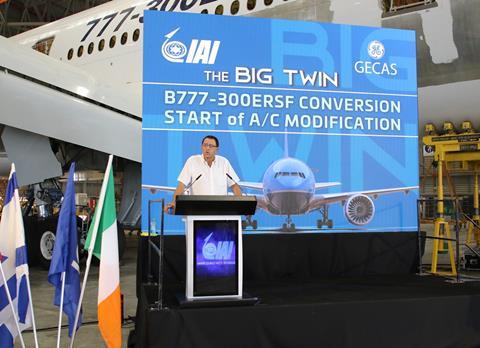 Melamed claims demand for 777 conversions is high and that slots will be "quickly filled". He believes the company will receive orders for over 50 conversions.
Israeli and US regulators will carry out the initial certification, says IAI. "The development process is complicated and highlights IAI engineers' extensive experience in aviation," the company adds.
GECAS Cargo senior vice-president and manager Rich Greener says the 777-300ERSF is a "very well thought-out and credible programme" which will combine the two companies' experience in order to create a "very efficient freighter".