Embraer has issued a service bulletin allowing operators of its 50-seat ERJ-145 regional jet to install high-efficiency particulate air (HEPA) filters, with the first kits to be delivered by next month.
The Brazilian airframer, which took five and a half months to develop the kit, adds that it is completing work for HEPA filter kits for the ERJ-140 and ERJ-135 "very soon".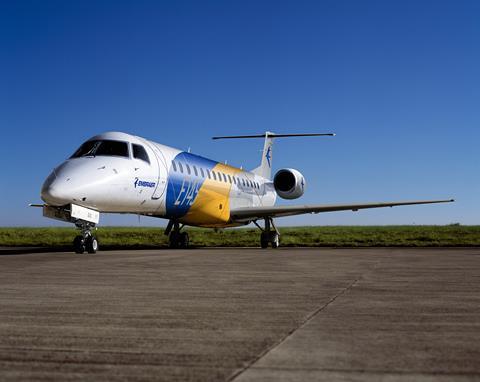 It adds: "The kits for the first 70 aircraft are already being assembled and should be delivered by mid-December."
"Given the moment we are living, developing a HEPA filter service bulletin for the ERJ-145 is a must-have solution Embraer developed for making cabin conditions even safer for passengers," says Johann Bordais, president and chief executive, Embraer Services & Support.
HEPA filters have been in the spotlight recently amid the global coronavirus pandemic, as airframers and airlines tout their ability to trap most bacteria, viruses and fungi.
HEPA filters are already a standard feature on Embraer's later generation of aircraft, such as the E-jet family, and on Embraer Executive Jets.
Cirium fleets data indicates that there are more than 250 ERJ-145s in commercial service globally, with another 261 jets in storage.