Leading electric vertical take-off and landing (eVTOL) developer Eve Air Mobility has disclosed more suppliers for its in-development aircraft.
The Embraer-owned company said on 18 June that BAE Systems will provide batteries for the air taxi, and that French company Duc Helices will supply rotors for the aircraft's eight lift motors and the cruise propellers.
BAE has previously provided batteries for buses and other heavy-duty electric vehicles. Its advanced energy storage system will "allow the aircraft to efficiently operate with zero emissions and low noise", Eve says.
Earlier on 18 June, Embraer said it and Japanese electric motor specialist Nidec were forming a new joint venture called Nidec Aerospace, which will provide electric propulsion systems for Eve's project.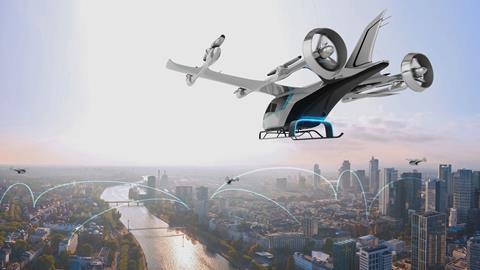 Andre Stein, Eve's co-chief executive, says identifying suppliers "is a key milestone in the development of our eVTOL aircraft".
"As we advance toward entry into service, our goal is to make sure that we produce and deliver a mature aircraft that not only exceeds expectations but enables our customers to operate safely and efficiently with the lowest cost of operation," he adds.
Eve is set to be the launch customer for Nidec Aerospace's in-development electric propulsion system, which will eventually be marketed to the broader urban air mobility (UAM) industry.
Later this year, Eve has said, it intends to start assembling a prototype of its aircraft. The company, which is majority owned by Embraer, is on track to fly the first prototype of its developmental aircraft next year, and to have the air taxi enter service in 2026.
To date, Eve has conducted ground tests of the aircraft's lift and cruise propulsion system, which comprises eight rotors for vertical lift, and two pusher propellers.