Eve Air Mobility plans to produce its in-development electric air taxi at a facility in the Brazilian city of Taubate, where Eve majority owner Embraer already has a presence.
"The manufacturing plant will be situated on a designated portion of land within Embraer's existing unit in the city, [which] will be expanded," Eve and Embraer say on 20 July.
Taubate is about 87 miles east of Sao Paulo and only 25 miles east of Sao Jose dos Campos, home to Embraer's massive E-Jet production facility.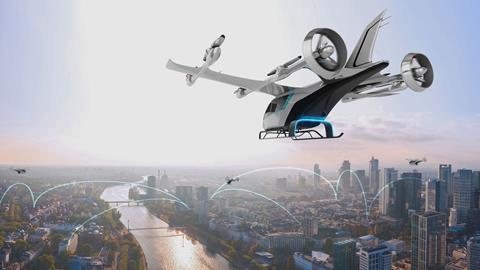 The planned site will benefit "from a strategic logistical location, offering easy access via two highways and close proximity to a railroad", Eve says.
"Another significant advantage is the region's proximity to Embraer's headquarters in Sao Jose dos Campos and Eve's engineering and human resources team, which will facilitate the development and sustainability of new production processes," Eve adds.
Embraer started Eve as an internal development project before spinning off the unit into a separate company, of which Embraer still owns some 90%. Eve aims to have its aircraft flying passengers in 2026.
The air taxi start-up is among several developers seemingly making progress in bringing electric vertical take-off and landing (eVTOL) aircraft to market. Such designs still face substantial certification, operational and technical hurdles, and an unproven business model.
Eve has said that this year it will be assembling a prototype aircraft. The company's design is a small craft with eight rotors providing vertical lift and two pusher propellers.
The company has commitments from customers to acquire some 2,800 of its air taxis.