In an operation somewhat resembling a reverse-motion assembly line, two 10-year-old Boeing 787-8s – the first of the type to be retired from commercial service – were recently reduced to a pair of bare fuselages, stripped of components.
The used serviceable material from the jets has already generated "huge interest" amid a global shortage of aircraft parts, says Irish aircraft management and trading company EirTrade Aviation, which performed the tear-downs. Since these are the first 787s ever disassembled, close to zero used parts had previously been available for operators of Boeing's flagship widebody jet.
"It is no secret that the 787 market has supply-chain issues," Paul Gleeson, vice-president of sales for EirTrade, tells FlightGlobal. "It is difficult to find MRO slots, before you even get to the materials that are available for getting stuff repaired. Ultimately, it came down to a math equation… We had been seeing massive demand from our customers for this type of material, and that made it a natural progression for EirTrade to start targeting next-gen aircraft, with the 787 being the first one we got our hands on."
CRITICAL COMPONENTS
EirTrade has been "inundated" with requests for 787 components from its customers, making disassembling the jets to sell the parts a "no-brainer", Gleeson says.
What to do with the carbon composite material from the 787s' wings and fuselages is less obvious. In an emerging issue for the airline industry, best practices for recycling and repurposing advanced materials used to build next-generation widebody jets – such as the 787 and Airbus A350 – have yet to be established, says Sam O'Connor, interim executive director of the Aircraft Fleet Recycling Association (AFRA), a trade organisation that provides guidance and oversight for aircraft dismantling operations.
Composite materials from aircraft, automobiles and industry are often incinerated or buried in landfills – not viable long-term solutions for the disposal of major airframe components. (The smallest of the Dreamliner family of aircraft, the 787-8 is 57m (186ft) nose-to-tail and has a wingspan of 60m, according to Boeing.) And such material is difficult to recycle.
"There are few accepted technologies… to break down that material to be usable," O'Connor says of carbon-fibre composites. "These existing technologies can be costly and limited in facilities that have the ability to recycle composite materials. Right now, it has the potential to end up in landfills.
"When you cut up fibrous materials such as composites, it turns to dust and gets in the air, so there are potential environmental concerns," he adds.
How to handle advanced aircraft materials stripped from next-generation jets is a problem that has the attention of major aviation companies, O'Connor says: "This is something that the industry realises needs to be done. We are just really trying to figure out the best way to do it."
PARTING WAYS
The recently dismantled Dreamliners – serial numbers 35304 and 35305, both built in Everett, Washington and originally operated by Norwegian – would have been due for 12-year checks and landing-gear overhauls, making them good candidates to be parted out, EirTrade says.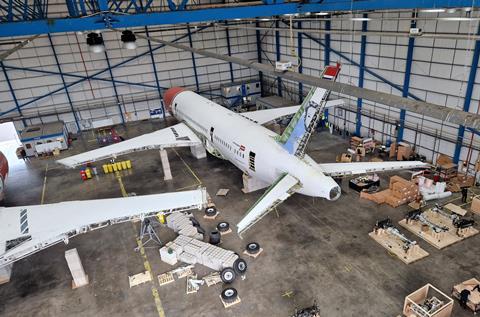 Based at Ireland West airport in Knock, EirTrade's bread-and-butter is disassembling narrbowbody jets, having completed projects on Boeing 737 and 757 series aircraft. But in early 2020, the company became the first to take apart a twin-aisle, double-decker Airbus A380. That process helped EirTrade prepare for taking on the 787s.
The firm says it is "no stranger to disassembling new technology" as it was also "one of the first companies to disassemble the CFM56-7BE engine", which powers Boeing's fleet of next-generation single-aisle aircraft.
"We are always on the hunt for ways to really shake things up, and it is great to be the first to market on any of these assets," Gleeson adds. "It is a fun and exciting project on our side – everybody wants to be a part of it."
The 787s were disassembled in Prestwick, Scotland, and the tear-down process itself took about 60 days. But EirTrade spent much of the past year planning how it would take apart the pair of 787s and distribute the parts to airline and MRO shop customers, Gleeson says.
The company has "routed quite a lot of the [787] parts to MROs to get tagged, and so far, so good, in terms of getting serviceable units back", Gleeson says.
STRONG DEMAND
With strong demand for commercial aircraft parts and different pinch points in the supply chain arising "almost weekly", he adds, it is an ideal time to capitalise on the market for 787 components.
The pair of widebody jets getting dismantled well before their design life does not suggest the global Dreamliner fleet will exit service sooner than expected, Boeing tells FlightGlobal.
"787s have been designed and built to operate for decades in service," the company says. "Its backlog of more than 500 airplanes, including more than 250 orders and publicly announced commitments since late 2022, show its strength in the market."
It is not unusual for aircraft to be cannibalised to keep others in service, and observers say there is no indication that the 787 is headed for an early retirement.
"The reason you part it out is because there is a business case," Jonathan Berger, managing director of Alton Aviation Consultancy, told FlightGlobal during the MRO Americas conference in Atlanta on 19 April. "Someone needs the engines, someone needs the landing gears, someone needs the avionics… It is just math, not like a deficiency in the Dreamliner."
More than 1,000 787s are currently in service worldwide, according to Cirium fleets data. Boeing says it has unfilled orders for a further 592 of the type.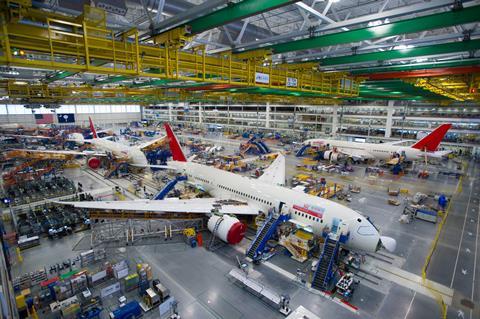 'BETTERMENT OF OUR PLANET'
When it entered service in 2011, the 787 was the first commercial aircraft with major sections – the fuselage, tail and wings – manufactured with composite material. The aircraft is 50% carbon composite by weight and 80% by volume, Boeing says.
Introduced in 2015 as a response to the 787, the Airbus A350 is also manufactured with major composite sections.
Composite material is high strength and low weight, making it ideal for use in airframes. "It is more durable, it doesn't corrode or fatigue and [it has] better maintenance cycles and much better design possibilities," says Lane Ballard, vice-president and general manager for the 787 programme.
But it is difficult to recycle because it cannot be melted down and reformed like scrap metal. It is made from long carbon fibres fixed within a polymer and cured at high temperatures and pressures. The polymer can be burned off or dissolved with chemicals to recover the fibres, but known processes are cost-prohibitive.
"We need to figure out how we can separate the material from other bonding materials," O'Connor says. That is the catch about using carbon composites in airframes: "So its carbon footprint is lower, but we really did not think long-term about what happens when this aircraft is no longer in service. What are we going to do with it?"
Boeing says that "composite recycling was considered early in the design process for the 787". In 2008, it helped establish AFRA, which "brings together OEMs, airlines, lessors, dismantlers, recyclers and research institutions to enable an end-of-service ecosystem", the airframer says.
AFRA's research and development committee is working to identify new ways to recycle, repurpose and re-use composite material. "We are going to start in the coming months figuring out ways to best break down the composite fibres," O'Connor says.
"The industry is challenged with finding a solution for recycling carbon composites at the end-of-service," says Christin Datz, an associate technical fellow of product lifecycle sustainability for Boeing. "While technologies for fibre recovery from production excess are applicable, the industry also faces challenges that include dismantling, material preparation and separation processes – and matching predictable supplies to future market demand."
Datz says Boeing is working with universities and aviation companies to find ways to recycle aerospace-grade composite waste – including for use in railway undercarriages, laptop cases and car parts.
PRESERVED FOR RESEARCH
As part of its effort to better understand end-of-life issues for next-generation jets, AFRA has taken possession of what is left of the recently retired Dreamliners, including the carbon composite fuselage and wing-tips, and some engine components, O'Connor says. The fuselages were cut into smaller sections and shipped to ECube, an aircraft dismantling company in Wales that has agreed to store the material for one year.
"Then we will be seeking out additional entities that may like access to the composite material to start doing research and development on it," he says. AFRA is working to ensure that whatever is discovered regarding the disposal of composite material as a result of the Dreamliner dismantling process will be published information.
"What we are requiring, once we provide that material to them, is that this intellectual property is made available to the world," he says. "We want to say, 'OK, this is what we found out and this is the information that we are going to relay so everyone can start doing it the same exact way.'"
"It is not something that we're looking to seek any type of monetary gains off of," he adds. "It is for the betterment of our planet."
Boeing says it has worked with AFRA to ensure that "sections of interest" from the 787s will be preserved to study end-of-service for advanced materials.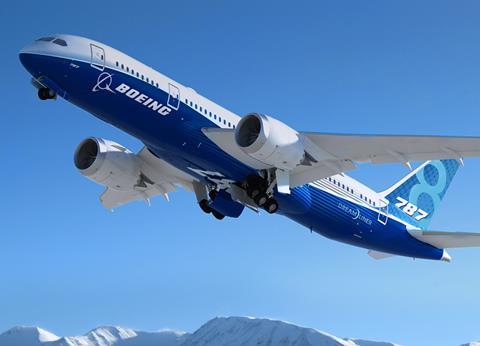 The elegantly curved wings from the 787s were sent to the National Manufacturing Institute of Scotland, nearby where the jets were dismantled. Some of the carbon-fibre material removed from the pair of Dreamliners has been returned to Boeing, which will use the recovered material for research and development purposes.
Better understanding how to handle carbon fibre composites will only become more pressing as more aircraft are produced with such components. It is possible that Boeing's next narrowbody jet will be designed with a mostly composite airframe, though that decision is years away, as chief executive David Calhoun says its next clean-sheet aircraft will likely be introduced in the middle of next decade.
"It is hard for me to imagine us not taking full advantage of everything we have learned on advanced composites," Calhoun said during a 30 May press conference at the company's 787 assembly plant in Charleston.
"I have no doubt that will play a pretty significant role," he adds. "We are simply going to continue to progress with the technologies that we have available to us."
However, Boeing's 787 programme has suffered a series of high-profile setbacks, including a roughly 22-month delivery pause that ended in August 2022 after Boeing addressed manufacturing quality issues involving sections of the 787's composite fuselage and pressure bulkhead – calling into question whether producing thousands of narrowbody jets with carbon fibre airframes is feasible.
But as more next-generation jets are manufactured and retired in the decades to come, it will become critical to establish best practices for handling high-tech aircraft components at the end of their useful lives, O'Connor says.
"How are we going to take these [materials] when they are at the end of service, not put them in a landfill? We need to start designing that aspect at the very beginning of the process. We need to consider how we are going to be able to dispose of this stuff."