Embraer is moving closer to divesting its air taxi business Eve UAM, saying it expects to close the sale of the business to shell company Zanite Acquisition on 9 May.
The sale still requires approval from shareholders of publicly traded Zanite, which has scheduled a shareholder vote for 6 May, Eve and Zanite say on 14 April.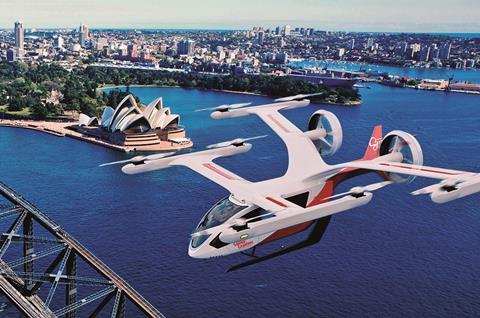 The deal would make Florida-based Eve latest among several air taxi developers to become a publicly traded company through a reverse take-over method that gained favour on Wall Street in recent years.
Zanite is a so-called special purpose acquisition company (SPAC), a type of entity formed for the purpose of acquiring attractive companies and taking them public.
In December 2021, Embraer said it signed an agreement to sell Eve to Zanite in exchange for 220 million Zanite shares, valued at $10 per share and equating to a total value of $2.2 billion. Upon the acquisition, Zanite will remain publicly traded and change its name to Eve Holdings, securities documents show.
As part of the arrangement, Zanite has secured agreements to raise $305 million by selling shares to several private investors. That money, combined with Zanite's existing funds, will leave Eve with $512 million in cash once the deal closes.
Embraer will own more than 80% of the public company, according to securities documents.
Several other air taxi developers have recently become public companies via deals with SPACs. Those Lilium, Archer Aviation, Joby Aviation and Vertical Aerospace.
Eve is developing an electric vertical take-off and landing (eVTOL) aircraft that will carry four passengers and have 54nm (100km) of range. It aims to achieve type certification and service entry in 2025 or 2026, according to company materials.