Bahrain's air navigation service has updated NOTAMs to remove restrictions on Qatari services, following the recent reconciliation agreement reached at a Gulf Co-operation Council summit.
Qatar does not have its own flight information region. Its airspace is contained within the Bahraini FIR.
The kingdom's aeronautical information publication has featured restrictions on certain routes including Qatari-registered aircraft departing Doha for Kuwaiti and Iranian airspace.
But a newly-published NOTAM contains amendments to the Bahraini standard routes document, specifying removal of references to Qatari-registered flights.
The amendments take effect from 11 January, it states.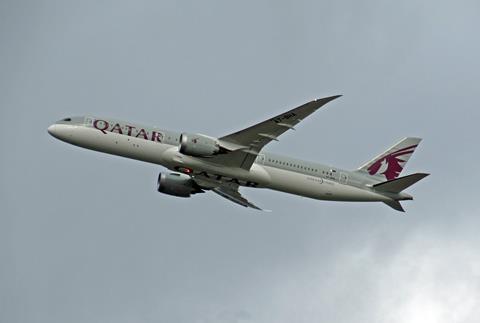 Bahrain was one of four Arab states that had imposed a blockade on Qatari services, including those operated by Qatar Airways, more than three years ago.
But the four states – including Saudi Arabia, the United Arab Emirates, and Egypt – signed a declaration at the Al-Ula summit on 5 January.
The UAE's foreign ministry stated that it would "begin to end all measures" against Qatar, re-opening airports for inbound and outbound traffic from 9 January.
It adds that the summit declaration brought a "permanent agreement" of "solidarity" within the Gulf Co-operation Council, and that the UAE will work to "resolve all other outstanding issues" with Qatar through bilateral discussions.
ICAO has welcomed the resolution of the dispute, which began in mid-2017 and resulted in the establishing of contingency routes to maintain international flights out of Qatar.
"This resolution to the former Gulf airspace restrictions will help assure that the important socio-economic benefits of international air connectivity can be better optimised among all the countries concerned," says ICAO Council president Salvatore Sciacchitano.
Qatar Airways is to restore services to the three main Saudi cities of Riyadh, Jeddah and Dammam on 11, 14 and 16 January respectively.