Korean Air's multi-billion dollar bid to take over rival Asiana Airlines cleared a critical legal hurdle, after a Seoul district court dismissed an attempt to block the acquisition.
The 1 December ruling from the Seoul Central District Court means Korean Air's parent Hanjin KAL can proceed to issue shares — amounting to W800 billion ($723 million) — to state-owned Korea Development Bank (KDB), to raise funds for the Asiana acquisition.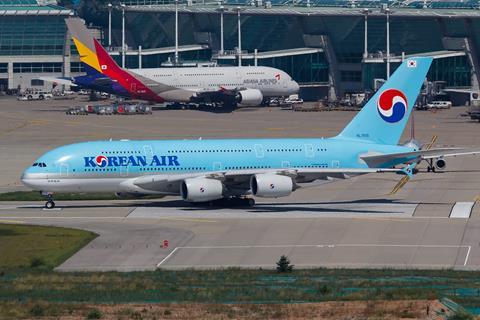 Korean Air will then buy new shares issued by Asiana – valued at around W1.5 trillion – and purchase Asiana bonds worth around W300 billion.
In a statement issued following the court judgement, Korean Air and Hanjin KAL said they "respect the judgment of the court" and vowed to "do our best to contribute to the improvement of shareholder value and economic development".
"In particular, Korean Air is highly aware of the great significance and responsibility of this acquisition of Asiana Airlines, and above all, as a party to the restructuring of the Korean aviation industry, we will do our best to overcome the crisis, strengthen competitiveness, and stabilise jobs," the carrier adds.
At the heart of the injunction — sought by private equity fund and Korean Air shareholder Korea Corporate Governance Improvement (KCGI) — are concerns that the KDB cash injection will dilute existing shareholders' value.
KCGI is part of a consortium that holds about 45% shareholding in Hanjin KAL, and will see its shares diluted to just over 40% after the cash injection.
The fund did not immediately comment following the court ruling.
On 16 November, Korean Air and Hanjin KAL announced plans to take over embattled Asiana, ending months of speculation about who would acquire the latter carrier.
It says it did so to "stabilise the Korean aviation industry", which, like many others around the world, has acutely felt the impact of the coronavirus outbreak.