Finnair's strategy for maintaining its Asian network includes resorting to polar routes to reach destinations previously accessible via Russian airspace.
The carrier is operating over the North Pole to serve Tokyo Narita, with a route that skirts Russia's eastern region by flying across the Bering Sea, just west of Alaska, before adjusting course to the Japanese capital.
Finnair says the change required lengthening the extended twin-engined operations (ETOPS) times for the Airbus A350-900 deployed on the route, and carefully analysing payload, fuel-burn, airspace fees and terrain.
The carrier also had to check the availability and data for a number of diversion airports in Scandinavia, northern Canada, Alaska and Japan that had not previously been used.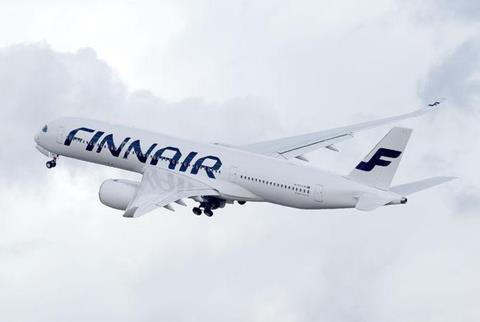 "This change – closing the entire Russian airspace – was so exceptional, that the system needed some manual guidance in the form of alternative waypoints, to get started and create an alternative flight routing," it adds.
Finnair commenced the new route on 9 March, with its AY73 service. It says the flight marked its first route over the North Pole in nearly 30 years.
The twinjet completed the flight in 12h 52min. The carrier indicates that it will also use polar routes for its connection to Seoul.
Passengers were informed when the aircraft passed over the North Pole, and Finnair provided them with a commemorative certificate.
Finnair deputy A350 fleet chief Aleksi Kuosmanen – the son of the first Finnair pilot to fly the North Pole route in 1983 – was part of the crew for the route.