Virgin Australia will require all employees to be vaccinated against the coronavirus, becoming the second Australian carrier to do so after Qantas announced a similar mandate in August.
The Brisbane-based carrier says it has concluded a two-week consultation with its employees, noting that mandating vaccinations is the "best way to protect the health and safety of its workforce, and in turn the wider Australian community and everyone's way of life".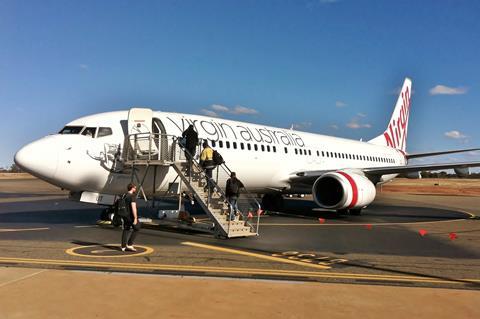 Virgin Australia will require all frontline employees — including crew members and airport-based staff — to be inoculated by 15 November, with all other staff to be vaccinated by 31 March 2022.
The airline says it is prepared to make exemptions for staff who cannot receive the vaccine due to medical reasons, or "other reasons that can be substantiated".
Virgin Australia in late-August floated a proposal to have its entire workforce vaccinated, and said it was engaging its staff about the vaccine mandate.
Following the consultation, the carrier says it will include certain adjustments to its vaccination policy, including reimbursements for expenses incurred visiting a doctor to discuss vaccination concerns, as well as tweaks in leave allowances in relation to vaccination.
Virgin Australia chief Jayne Hrdlicka says the move to make inoculation mandatory is "the right policy for the extraordinary times we live in".
"Our guests can know that when they fly with us later this year, all of our frontline teams will be fully vaccinated. This is in addition to several other measures we have in place to minimise risks associated with COVID-19, which will help our guests feel comfortable and confident when flying with us. We also remain supportive of any government-led measures to ensure travellers are vaccinated," adds Hrdlicka.
Virgin Australia joins a growing number of airlines globally that are requiring mandatory vaccinations for all employees. Qantas, which announced the measure on 18 August, made the case that vaccines will "safeguard our people against the virus but also protect our customers and the communities we fly to".