Raytheon is promoting a new low-cost active electronically scanned array (AESA) radar intended for a range of aircraft types, from legacy fighters to 'loyal wingman' unmanned air vehicles (UAVs).
The PhantomStrike system is optimised for platforms that have space, weight, and power constraints, Raytheon says.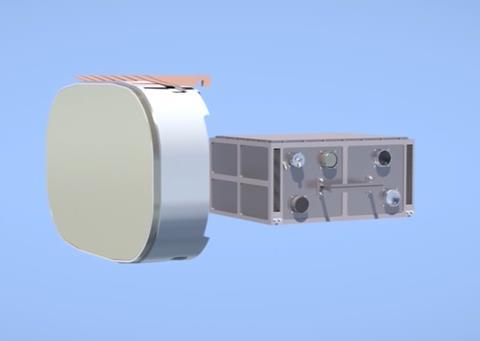 "There's a huge market out there for upgrades, new aircraft, UAVs, and helicopters," says Raytheon Intelligence & Space executive Richard Sandifer.
"So we thought let's take some of the technologies we have from Raytheon that we're developing now or have developed, and figure out how we can get a small, high performance radar into these [size-, weight-, and power-constrained] platforms."
The radar draws from Raytheon's work on programmes such the Patriot surface-to-air missile, which informs its gallium nitride (GaN) sensor array. Importantly for a radar designed for small platforms, PhantomStrike is air cooled, cutting weight and complexity.
Sandifer says that fixed-wing aircraft applications could include the Boeing T-7A, Korea Aerospace Industries FA-50, and Northrop F-5. Given its low cost, PhantomStrike could also be applicable for loyal wingman UAVs.
Thermal testing of the PhantomStrike array suggests the system performs better than modelled. Next year, Raytheon plans flight tests aboard its Boeing 727-200 testbed.
PhantomStrike will come in two array sizes; Raytheon has already conducted fit checks with potential customers, including with the smaller array on an F-5.
As for sales, Sandifer says the company is in discussions with several customers. In addition, PhantomStrike was developed with the international market in mind, meaning it can be obtained through a direct commercial sale, as opposed to the US government's Foreign Military Sales process. PhantomStrike can also be produced outside the USA.
Sandifer adds that given its cost, PhantomStrike is suitable for the so-called 'attritible' unmanned aircraft of the future.
"It's half the price of a modern day radar," he says. "If you're looking for radar with this performance on an attritible [aircraft] for the price that we're asking, it's a no-brainer."