The US Air Force (USAF) has conducted the first live fire test of the AIM-120D3 AMRAAM (Advanced Medium Range Air-to-Air Missile) F3R.
The exercise took place on 30 June, with the missile launched from a USAF Boeing F-15E fighter. Raytheon Missiles & Defense disclosed the successful test during a media briefing at the Farnborough Airshow.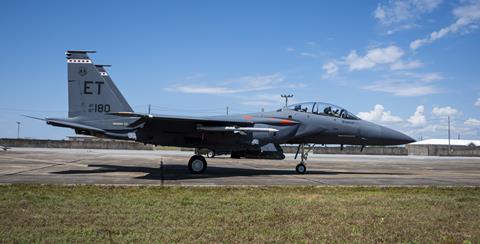 The test came under the auspices of the company's 'Form, Fit, Function, Refresh' programme, with updates to the hardware and software of the missile, which has served as the USAF's primary air-to-air weapon for decades.
During the test, the weapon was able to engage an aerial target at "long range".
Without providing exact details, Raytheon contends that updates to the existing AMRAAM can greatly enhance its range.
"The AMRAAM F3R is a comprehensive hardware system redesign impacting 15 Circuit Card Assemblies replacing early 2000s technology components," says the USAF.
"The core objective of the test was to execute a long-range shot that physically stressed the new missile hardware and verified missile performance capabilities."
In April 2021, the USAF achieved the longest known air-to-air missile shot using an AIM-120 fired against a drone, but it did not provide details of the range.
Raytheon contends that upgrade work can greatly enhance the range and capability of the venerable AIM-120 missile – a key consideration as the US military contemplates a potential peer-on-peer conflict with China.
Raytheon also announced that Norway has selected its StormBreaker weapon for its Lockheed Martin F-35A fleet.
StormBreaker is capable of attacking both stationary and moving targets during the day or night, and in a range of conditions.
"StormBreaker delivers a unique combination of power, precision, and operational flexibility to the joint and allied fight," says Paul Ferraro, president of Air Power for Raytheon Missiles & Defense.