In recent months US airlines have brought some 1,600 aircraft back into their fleets, bolstering their operations amid hopes that air travel demand would rebound following a dismal spring.
Thousands of aircraft remain in storage, but US government data does show a significant bump in summer air travel.
Still, hopes of a more-robust rebound have ebbed as the pandemic continues raging, and government aid is set to expire in the coming months.
Cirium fleets data shows the degree to which US carriers built up their operations this summer after grounding half their fleets in spring.
In early January, before the pandemic struck, US airlines operated some 6,100 aircraft, including turboprops, regional jets, narrowbodies and widebodies, Cirium data shows.
As the pandemic struck in early spring, those airlines grounded about 3,000 jets, leaving the in-service fleet at about 3,100 aircraft as of mid-May.
But the fleet has since swelled.
As of 19 August, US carriers operated about 4,650 aircraft, a 51% bump from the mid-May low, data shows.
All major US airlines added seats, but Florida-based Spirit Airlines led the charge. The ultra-low-cost carrier returned nearly 100 Airbus A320-family jets back to service in recent months, bringing its in-service fleet to 146 aircraft as of 19 August.
Eying a summer rebound, major US carriers rushed jets back to service
Mainline US carriers
Fleet, 15 June
Fleet, 19 August
Change
Percent change
Alaska Airlines
82
142
60
73%
Allegiant Air
80
94
14
18%
American Airlines
494
721
227
46%
Delta Air Lines
299
550
251
84%
Frontier Airlines
54
82
28
52%
Hawaiian Airlines
25
46
21
84%
JetBlue Airways
87
205
118
136%
Southwest Airlines
484
642
158
33%
Spirit Airlines
53
146
93
175%
Sun Country Airlines
15
25
10
67%
United Airlines
229
448
219
96%
Total
1902
3101
1199
63%
Source: Cirium fleets data
New York's JetBlue Airways has brought nearly 120 jets into service since mid-May, more than doubling its in-service fleet.
Likewise, Chicago-based United Airlines' fleet nearly doubled between mid-May and mid-August, jumping to 448 aircraft, data shows.
Carriers added more narrowbodies than other types, bringing some 1,100 of those types back into service in recent months, a 64% bump from mid-May.
The in-service regional aircraft fleet has jumped 31% since spring to nearly 1,500 aircraft, and the in-service widebody fleet climbed about 50%, to 276 aircraft, according to Cirium.
US airline fleet changes since May, by aircraft type
Aircraft in fleet
15 June
19 August
Change
Percent change
Narrowbody aircraft
717
61
65
4
7%
757
42
116
74
176%
737
905
1480
575
64%
A220
31
31
0
0%
A319
234
281
47
20%
A320
265
484
219
83%
A321
208
413
205
99%
E190
17
22
5
29%
Total narrowbody
1763
2892
1129
64%
Widebody aircraft
747
0
2
2
-
767
23
56
33
143%
777
52
79
27
52%
787
73
92
19
26%
A330
24
36
12
50%
A350
9
11
2
22%
Total Widebody
181
276
95
52%
* Source: Cirium fleets data
Carriers are still operating only about 75% of the aircraft they were at the start of the year, and several airlines are limiting capacity by blocking middle seats. The stored fleet now stands at some 2,200 aircraft, including about 700 regional aircraft, 1,100 narrowbodies and 380 widebodies, data shows.
Air travel demand did jump higher this summer.
According to the Transportation Security Administration (TSA), an average of 684,000 passengers passed through US airport security checkpoints daily between 1 July and 18 August.
That is down from about 2.5 million passengers daily in the same period last year. But it is up significantly from April, when an average of only 110,000 passengers passed through the checkpoints daily, according to the TSA.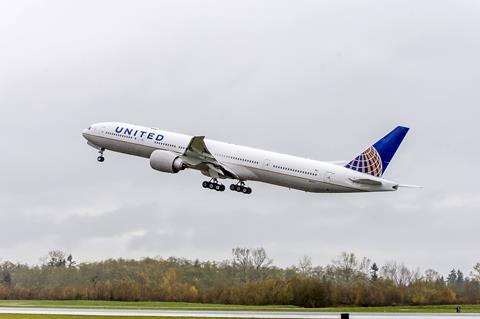 Despite a summer bump, carriers have cut capacity next month amid ongoing quarantine requirements and the still-raging pandemic.
Airlines have trimmed their schedules to include 44 million seats on domestic routes in September, down 13% from 51 million seats in August, according to Cirium schedules data.
By comparison, US airlines carried 82 million seats on domestic routes in September 2019.
"Recent capacity gains in Europe and the US may be short-lived as airlines face lower leisure demand and scant business flying this fall," says an 11 August report from Bloomberg Intelligence. "International capacity is only inching up slightly, as restrictions remain in most countries."
The end of September also marks the expiration of furlough restrictions contained in the US government's airline aid package. As a condition for making $29 billion available to pay airline employee expenses, the government prohibited carriers from laying off staff until 30 September.
Industry groups are now pushing for a second aid package, but major US airlines have warned employees of pending job cuts.
American Airlines has said it may need to cut 25,000 jobs, Delta Air Lines has warned of 17,000 furloughs and United has said 36,000 workers could lose their jobs.