Israel has long been a power in UAVs, but it is a market that is going through many changes, with a new breed of intelligent missiles and a trend towards miniaturisation – both of payloads and platforms
From medium-altitude, long-endurance (MALE) platforms to loitering munitions and miniature reconnaissance types weighing a few kilogrammes, Israel has been a leader in unmanned air vehicles (UAVs) for decades. Like much in Israel's aerospace and defence industry, invention has sprung from necessity. While the USA fast-tracked the development of indigenous UAVs for campaigns against a post-Cold War enemy in Afghanistan and Iraq, Israel's constant need to watch over hostile neighbours has spawned a home-grown capability that has kept the nation safe and turned companies such as Aeronautics, Elbit Systems and Israel Aerospace Industries (IAI) into prolific exporters of the technology. Israeli products are operational with customers from Azerbaijan to the UK.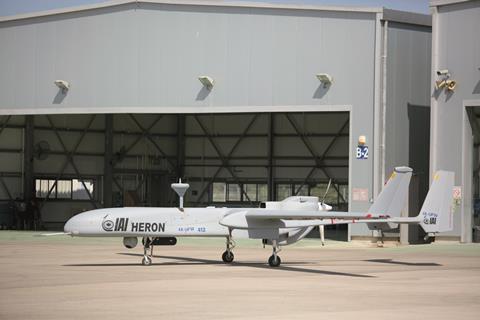 Israel began seriously developing unmanned platforms able to provide over-the-hill intelligence in the 1970s and 1980s, after the Yom Kippur and Lebanon wars, with IAI and Tadiran (a forerunner of Elbit) early pioneers. Today, Israel's big two aerospace and defence contractors – IAI, with its flagship Heron range, and Elbit, which is behind the Hermes 450 and Hermes 900 types – dominate the MALE market. Aeronautics – now effectively owned by Israel's number three, Rafael – is another significant player, with a range including a MALE and loitering munition platform but specialising in small, tactical UAVs. A newer name, UVision, focuses on loitering munitions, a segment in which IAI is also a major presence. Loitering munitions differ from cruise missiles in their ability to monitor potential targets for a long time, often providing real-time visual intelligence to the operator.
IAI's big talking point at Singapore will be the Heron Mk II, an updated model of the original Heron that is used by the Israeli air force and more than 20 other customers worldwide. IAI is pitching the Rotax 915 iS-powered type primarily at existing Heron users, stressing tweaks such as a "wider and stronger body structure" that allows additional payload, including larger sensors that allow it to "gather intelligence from tens of kilometres away without crossing borders", says the company. It follows the launch last year of another member of the Heron family, the Tactical or T-Heron, which is 30% smaller than the standard version and, unlike its sibling, can be deployed by forces in the field without access to airfields, according to IAI.
Loitering munitions emerged in the 1980s with the likes of early versions of the IAI Harpy and address the need – says one Israeli industry executive – to "hit targets that you know are there, but not exactly where, because they might be relocatable". Since then, technology has allowed manufacturers to increase both their detection capabilities and their endurance, as well as to design ever-more compact variants. The IAI Rotem family, which can be launched by a soldier in the field, starts with a 3kg (7lb) version that carries a 0.5kg warhead and has a 15min endurance. The latest version in the IAI Harpy range is the Mini Harpy, a tactical system that combines detection of broadcast radiation – from the likes of enemy radars – with electro-optical capabilities that give the operator high-quality video footage of the target.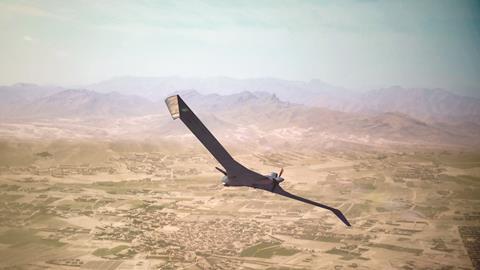 Elbit's main offering in loitering munitions has been its electrically powered SkyStriker, which typically carries a 5kg warhead with a 10.8nm (20km) range, and which the company says gives units in the field "a silent, invisible and surprise attacker". However, Elbit's takeover of IMI (previously Israel Military Industries) has taken it into a new segment by giving it access to that company's range of heavy airborne munitions, including IMI's Delilah long-range loitering missile, a 135nm-range weapon fitted with a 30kg warhead that can surveil a target area before being activated (usually by an operator on a fighter aircraft).
UVision was established in 2011, with a management team largely drawn from other aerospace and defence companies, and, after spending "five or six years" developing its range, is now in full "operational mode", says its vice-president of marketing and sales, Shane Cohen. It has a full range of tactical loitering munitions under the Hero brand, but most interest is in three products, he says. The 3kg man-portable, canister-launched Hero-30 has a 0.5kg warhead and a 30min endurance and is pitched at anti-personnel missions. It is "combat proven", but UVision will not confirm with whom.
The 12.5kg, anti-tank Hero-120 is the company's "largest of its short-range systems", with a 3.5kg warhead, a range of 21.6nm and an endurance of 60min. Able to "track moving targets", the product was late last year "demonstrated under an order from a strategic customer", says Cohen.
The company's latest loitering munition, the 40kg maximum take-off weight (MTOW) and 81nm-range Hero-400, was unveiled in mid-2017. An 8kg tandem-charge warhead allows it to penetrate targets protected by reinforced concrete, says Cohen. UVision carried out a demonstration of the weapon in the USA last year and will "hold several more trials" during 2020, he says. A new folding-wing mechanism – "a technical challenge" – allows the Hero-400 to be deployed from a canister. The wings open in flight to improve aerodynamics, and a 2h endurance allows operators to "change the target or wait for one to become relevant", says Cohen. Ultimately, a mission can be aborted roughly 100m (130ft) before impact.
Cohen says that what differentiates UVision from other loitering munitions manufacturers is "our range of capabilities", including a "top attack capability" derived from a cruciform four-wing design. "Most competitors have flat wings, but when you want to come in at a steep attack angle, you are fighting against the lift," he says. "It means we can come in through the thinner roof of a tank, for instance. Also, our gimbal-based camera means you can loiter and keep eyes on the target at all times."
UVision's strategy, he says, has been to bring affordable loitering munitions to field operations so that even platoons that might have been equipped with mortars can now "have the ability to have eyes on the target and strike from the same platform". He adds: "Until now, loitering munitions have been used as a strategic procurement. We have made it a tactical capability."
Small UAVs – surveillance platforms, rather than loitering munitions – are also crucial to Aeronautics' strategy. Dany Eshchar, deputy chief executive for marketing and sales, believes technology advances mean that operators can perform the same missions on smaller platforms. "With miniaturised sensors, you don't always need a 25kg payload – 3.5kg will allow you to see in very high resolution, which yesterday you needed 35kg for," he says. "The market today is asking for transportability, independence from an airstrip, a small logistics footprint and [for the device to be] easy for personnel in the field to operate."
The company offers the larger Aerostar and Dominator, but Eshchar describes the small tactical UAV market – which it focuses on with its Orbiter family (with 35 customers around the world) – as "huge", adding: "We have at least 10 tenders out there at $200 million and up. It's a segment that we excel at." He describes the company's latest product, the catapult-launched, 50kg MTOW Orbiter 4, as a "game-changer" because it is able to carry two 6kg sensors, and stay in the air at 10,000ft for 25h, an endurance it demonstrated during a proving flight in December. "It's everything that you used to need a 1.5t aircraft for. Once you have this sort of performance, it's transformative. You can conduct a long mission beyond line of sight," he says.
Eshchar believes that the MALE market will continue but that, within "four or five years" the small tactical segment will squeeze out smaller MALE types. "At this stage there are sensors that cannot be miniaturised, but that will not be the case for long," he says. The sector will then split into highly complex platforms that are able to operate at 25,000ft to 60,000ft and smaller types flying at around 10,000ft, with "nothing in between". He reckons that the Orbiter 4 – which is a development of the 30kg, electric-powered Orbiter 3, in operation since 2010 – will eventually represent up to 50% of Aeronautics' revenue.
Elbit chief executive Bezhalel Machlis is less convinced that compact UAVs are the future. "Will the market go to smaller UAVs and swarms? It might be a direction, but I believe it has limitations. It is not just the UAV but the data network that comes with it. People are not buying UAVs, but solutions," he says. "We have both (small tactical and larger types), but with bigger platforms you can fit several systems, which you can control. Small UAVs can be more complicated to manage and to operate. They have potential at battalion level and in niche markets such as recoverable loitering munitions, which are very relevant for urban fighting. But in my opinion they will never replace big UAVs."
Israel focus
1

2

3

4

Currently reading

The changing face of Israel's UAV sector

5

6