Airbus Helicopters is staying on course for a year-end first flight of its Racer high-speed demonstrator, with critical endurance tests recently completed on the rotorcraft's gearboxes.
Tests of the lateral gearboxes – part of the drivetrain for the Racer's twin pusher propellers – were carried out by Racer consortium partner Avio Aero in Italy, while Airbus performed similar evaluation for the main gearbox at its Marignane, France site.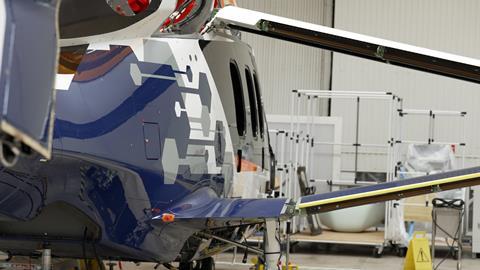 Fatigue testing of the components will now follow, says Tomasz Krysinski, head of research and innovation at Airbus Helicopters, including the oil-loss test – a vital step to gaining the necessary permit to fly.
The flight gearboxes are to arrive at the airframer in the coming days, he adds.
"We are in the race to get all these pieces together to put the Racer into flight by the end of the year. It is a fantastic period to make all these things happen," adds Krysinski.
Other pre-flight activities are ongoing, including the installation of the roughly 700 sensors to be fitted to the Racer.
"The crew is already very close to the aircraft, with a big appetite to make it fly," he says.
Previous first-flight targets have come on gone, but Krysinski is "100% confident" that the milestone will be reached before year-end. "Anybody that comes into my office and says it is not possible leaves very quickly and must understand that it is possible."
Krysinski indicated at the Paris air show in June that the airframer was aiming to fly the Racer in November.
Airbus Helicopters is developing the Racer under a project funded by the EU's Clean Sky 2 project. It is targeting a cruise speed of 220kt (407km/h).

Dominic Perry is deputy editor of Flight International but also contributes extensively to flightglobal.com. Although specialising in the coverage of the helicopter industry, he has written on most topics in aerospace – be they commercial, defence or business aviation. In addition, there has been an increasing focus on the decarbonisation of the industry and zero-emission flight initiatives.
View full Profile