The Sikorsky-Boeing SB-1 Defiant rotorcraft demonstrated the ability to lift a 2,400kg (5,300lb) sling load in a recent test flight.
The co-axial helicopter with a pusher propeller is still undergoing flight tests as the US Army reportedly recently sent out a request for proposals for its Future Long Range Assault Aircraft (FLRAA) to the Sikorsky-Boeing team and Bell. The SB-1, as well as Bell's V-280 Valor, were developed under a demonstration programme for the service.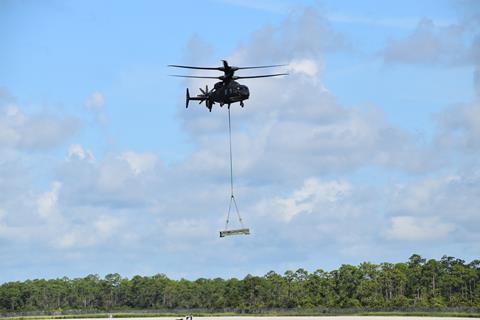 Whereas the Bell V-280 tiltrotor wrapped up its demonstration programme in June, after about 3.5 years of flight testing, the SB-1 is trying to make up for lost time. It did not reach first flight until 2019, due to issues with its composite rotor blade manufacturing process and transmission gears.
"The flight, carrying a 5,300lb Guided Multiple Launch Rocket System training load, took place last week at the Sikorsky Development Flight Center in West Palm Beach, Florida," the Sikorsky-Boeing team said on 22 July. "The lifting power demonstrated by SB-1 Defiant equates to an Infantry Squad Vehicle or hundreds of thousands of rounds of ammunition – resupply vital to soldier survival in a contested environment – further displaying Defiant's suitability for the army mission."
The demonstration also showed the SB-1's ability to carry troops at the same time as hauling a heavy sling load, the joint development team says.
FLRAA is intended as the US Army's replacement for the Sikorsky UH-60 Black Hawk utility helicopter. The service wants to equip its first unit with the new rotorcraft no later than 2030.
The US Army wants FLRAA to have a maximum cruise speed of 280kt (519km/h). It also wants the aircraft to have an unrefuelled combat radius of 300nm (556km), and a one-way unrefuelled range of at least 2,440nm.