If Northrop Grumman's proposal for MQ-Next looks a lot like the company's X-47B unmanned air vehicle (UAV), that's because the new SG-2 flying-wing concept draws many features from the demonstrator jet.
Despite the outer resemblance, Northrop argues that what really binds the two are the aircrafts' shared mission control software: the Distributed Autonomy/Responsive Control (DA/RC) software program.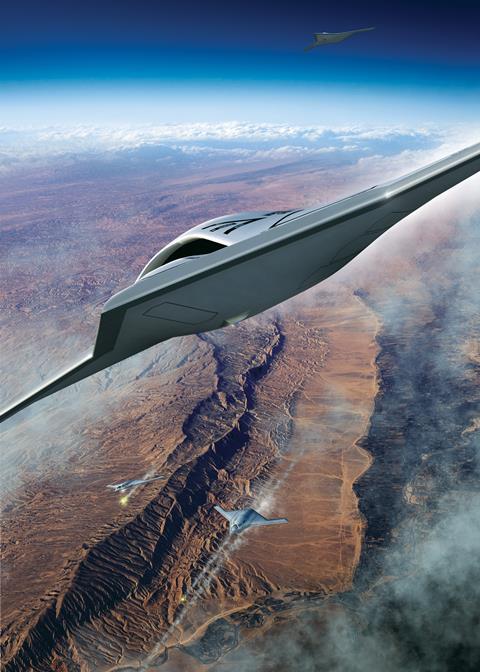 Northrop is proposing a family of systems for the US Air Force's (USAF's) MQ-Next programme, an effort to find an armed intelligence, surveillance and reconnaissance (ISR) UAV to replace the General Atomics Aeronautical Systems MQ-9A Reaper starting in 2030. The USAF released its MQ-Next request for information in June.
The SG-2 concept is just one of Northrop's forthcoming proposals for the programme, the company says.
The DA/RC, which would control the stealthy SG-2, was developed for the X-47B. It was the mission control software behind the UAV's successful autonomous aircraft carrier landing in 2013 and its successful autonomous in-flight refuelling in 2015.
The mission control software flies the individual UAV, but is designed so that a human controller can manage many aircraft – of different types – all at once.
"Instead of using a stick, rudder and a yoke, instead of using a mouse to click waypoints, you just define what objectives you want to have," says Richard Sullivan, Northrop's vice-president of advanced programmes for future combat unmanned air systems.
For example, a group of UAVs could be told to fly a continuous zig-zag pattern of surveillance over a given area. The DA/RC program would autonomously manage the flight paths of each aircraft, directing different UAVs to do different tasks. The system would coordinate the group of UAVs to make the most of the collective sensor resources and provide human operators with the most accurate and well-rounded picture of a situation, says Sullivan.
If communications between the aircraft and human controllers are interrupted – as might be the case in areas where opponents could jam or spoof signals – the UAVs would use their onboard autonomous capabilities to proceed with their mission, within certain constraints, Sullivan says. The DA/RC program would inform the human controllers of what the UAVs are likely to be doing during the disconnected period of time.
Sullivan says the DA/RC program can handle dozens of UAVs at once. "We can scale to whatever is needed, there is no hard limit," he says. "The company has done simulation with up to 100 systems involved, and in real-world testing has used 10."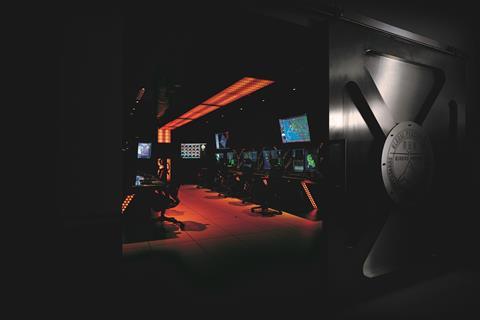 The physical resemblance to the X-47B is quite close, though the SG-2's leading wing edge is just one straight line, while its predecessor had swept back wing tips. The aircraft has a weight of 7,700kg (17,000lb).
Though the UAV's 1,000nm (1,850km) range is less than the 2,100nm reach of the X-47B, Northrop says it has ideas for longer-range aircraft in its MQ-Next family.
In general, the USAF seems to want UAVs with long unrefuelled range, including greater than 24h mission endurance, says Sullivan.
"The USAF appears to be shifting emphasis from permissive environment-only ISR/strike [UAV] to land- and sea-based systems capable of staging operations from a long-range sanctuary and holding targets at perpetual risk throughout the depth and breadth of highly-contested battlespace," he says.


Garrett Reim is a military aviation reporter based in Los Angeles. He reports on military aircraft manufacturers and operators in North and South America. Send him your confidential tips, press releases and story ideas via garrett.reim@flightglobal.com. Follow him on Twitter via @garrettreim.