The US Air Force (USAF) awarded Northrop Grumman a contract to upgrade the RQ-4B Global Hawk unmanned air vehicle (UAV) with "dynamic" in-flight rerouting software.
The value of the contract for the "Dynamic Mission Operations" (DYNAMO) upgrade was not disclosed. The software update for the high-altitude reconnaissance UAV would be fielded in 2023, the company said on 22 November.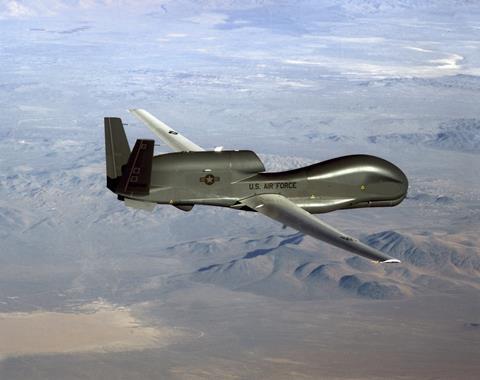 "DYNAMO is part of a series of Global Hawk modernisation efforts, including the ground station modernisation programme, that will reinforce the weapon system's ability to monitor and deter near-peer and peer threats around the globe," says Jane Bishop, vice-president of autonomous systems with Northrop. "These upgrades will make Global Hawk even more valuable in a future Joint-All Domain Command and Control environment."
Joint-All Domain Command and Control is a conceptual battlefield communications network, dreamed up by the Department of Defense, that would connect sensors mounted on aircraft, ships and ground vehicles across the USAF, US Navy, US Marine Corps and US Army. By being able to pass information quickly around the battlefield, the US military hopes that it could make decisions faster and outpace its enemies.
The Global Hawk operates at altitudes up to 65,000ft and can fly for up to 30h. Though the aircraft is controlled via a pilot operating from a ground station, it is also capable of autonomous flight.
The UAV is mostly used for intelligence, surveillance and reconnaissance missions. It can carry a synthetic aperture radar, electro-optical camera and an infrared sensor for keeping watch on events on the ground. The aircraft also can carry electronics intelligence listening devices and communication relays.
The DYNAMO mission planning update is intended to make it easier for RQ-4B operators to quickly reroute the UAV in response to weather or the actions of adversaries, says Northrop. That could be helpful for avoiding surface-to-air missile systems that suddenly get discovered while the UAV is in the middle of its mission.
The Global Hawk has shown to be vulnerable to surface-to-air missiles. In 2019, a US Navy RQ-4 was shot down near the Strait of Hormuz by an Iranian surface-to-air missile. US adversaries China and Russia have even more capable surface-to-air missile systems than those used by Tehran.