The US Department of Defense granted Northrop Grumman a contract to start reconfiguring four US Air Force (USAF) EQ-4 Block 20 Global Hawk unmanned air vehicles (UAVs) with sensors for tracking hypersonic missiles during tests.
In a task order, the Department of Defense Test Resource Management Center asked the company to begin engineering and planning work, Northrop said on 13 December.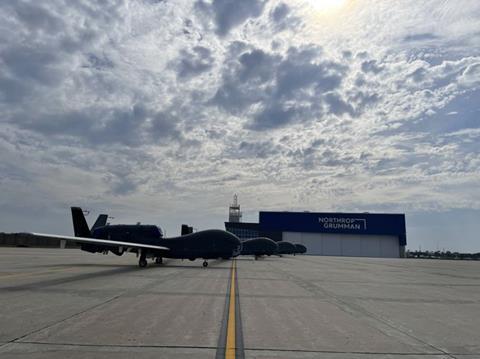 The "SkyRange" programme will integrate four EQ-4s with sensors to show that the UAVs can collect data on hypersonic missile tests. Modifications will be done at Northrop's Grand Sky UAV-testing facility near Grand Forks, North Dakota.
"The SkyRange programme exploits the intrinsic strengths of Global Hawk – altitude, persistence, payload and flexibility," says Jane Bishop, vice-president of global surveillance for Northrop. "Grand Sky's high-tech facility with a modern 35,000[sq] ft [3,250sq m] hangar provides the ideal location for engineering modifications to Global Hawk in support of the SkyRange programme."
The EQ-4 is based on the RQ-4, a high-altitude, long-endurance intelligence, surveillance and reconnaissance UAV operated by the USAF. The RQ-4 has an operating ceiling of 60,000ft and flight endurance exceeding 34h. EQ-4s are configured as communication relays and carry the Battlefield Airborne Communication Node payload. The Block 20s are older variants of the UAV.
The USA is in an arms race with China and Russia to develop and field hypersonic missiles. Beijing and Moscow's hypersonic missiles are more advanced than Washington's. The Department of Defense has struggled to catch up, with several hypersonic missile tests in recent years ending in failure.
In response, the Pentagon has invested heavily in expanding its testing ranges and equipment. Additional testing capabilities are seen as a way to more closely examine in-development hypersonic missiles and speed up the time it takes to field the weapons.