Lufthansa has begun talks with potential investors over the possible partial sale of Lufthansa Technik, though the MRO unit will remain a key part of the airline group.
Lufthansa had first said in late 2020 that it was preparing the ground for a possible part-divestment of its MRO unit – one of the biggest in the world, with wide-ranging activities including capabilities in large business aircraft completions as well as airframe and engine overhaul.
In releasing full-year results today, Lufthansa said preparations are proceeding and talks with "selected investors" have already begun.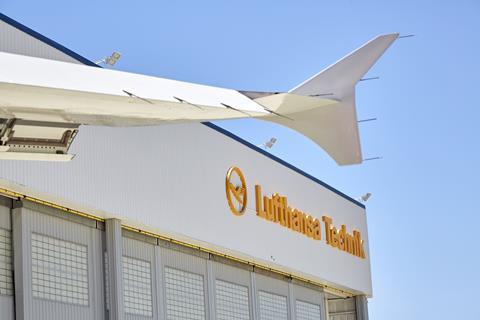 "This is a starting point for Lufthansa Technik. It's a partial divestiture. We want Technik to remain part of our portfolio," said Lufthansa group chief financial officer Remco Steenbergen during a results analysts briefing today.
"It is not about selling a little part and getting the cash in. It is truly about five to 10 years from now making sure [if there is] any big sector consolidation of the industry and value chain, that we are in the best possible position. So we are looking at someone who can bring us the capabilities in order to drive further development.
"Last year we did a lot of work to prepare ourselves: how would we see a business plan? Which kind of capabilities are we looking for? What kind of governance structure would work for us and what wouldn't work? We now start the discussions and we are confident something could be found."
Lufthansa Technik earnings jumped by 41% to a record high adjusted EBIT of €511 million ($543 million) in 2022.
Lufthansa though is continuing to evaluate the full divestment of non-core assets, including IT services company Air Plus and the remainder of the LSG catering business. Lufthansa sold LSG's European business to GateGroup in 2019. It says it will look to sell these units "as soon as market conditions permit".