Electric air taxis have descended on the NBAA show in Las Vegas this year, with several developers promising the emerging sector could soon eclipse traditional business aviation in size.
The start-ups, exhibiting in an advanced air mobility zone, insist that electric vertical take-off and landing (eVTOL) propulsion technology has sufficiently progressed to make "advanced air mobility" (AAM) viable, and capable of carrying fare-paying passengers over congested cities within years.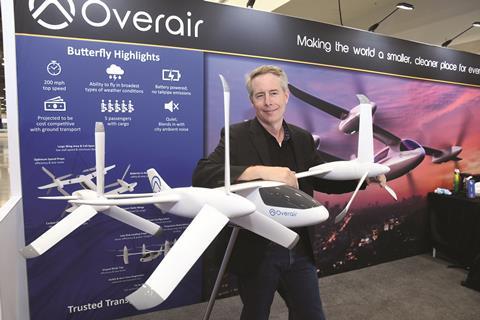 "The world of urban air mobility is quite possibly going to be even larger than today's business aviation community," claims Benjamin Tigner, president of Overair, a California company developing a six-seat, two-winged eVTOL with four props called Butterfly.
Overair aims for Butterfly, which will have about 87nm (161km) of range and 174kt (322km/h) top speed, to be certificated around 2025.
Tigner calls electric flight "very compelling… for today's business aviation industry", noting the aircraft can connect city downtowns to business aviation airports.
That is a message NBAA chief executive Ed Bolen gets behind.
"The embrace of this technology is very fundamental to business aviation," he says. "Business aviation has always been about getting people where they need to be, when they need to get there."
Next to Overair's booth at NBAA, Silicon Valley aviation technology start-up Kitty Hawk is displaying its single-seat eVTOL, Heaviside.
"We want to make this a ubiquitous and equitable type of transportation service," says Kitty Hawk director of flight operations Chuck Taylor. "From a traditional aviation perspective, it's really pushing the boundaries to make things cheaper and more effective."
Heaviside, an eight-rotor electric-powered autonomous aircraft that has a range of about 87nm and can fly at speeds of up to 156kt, was launched in 2019.
"Several dozen" have already been built and flight testing is well under way, Taylor says. The company hopes to begin testing the aircraft with passengers "in the next few months".
The Palo Alto-based start-up, backed by Alphabet's co-founder, Larry Page, is looking to establish an eVTOL market that will be accessible to a large swathe of the population.
Other companies exhibiting in the advanced air mobility zone include aircraft developer Jaunt Air Mobility and avionics heavyweight Honeywell.