The group chief executive of Ryanair insists the low-cost carrier will return to serving Ukraine as soon as the European safety regulator EASA allows, as he voiced strong support for the country's efforts to repel a Russian invasion.
"We do want to see the Ukrainians succeed," Michael O'Leary said during a press briefing in London today. "We will be the first airline to return to fly to Ukraine when it is safe to do so."
In January 2022, Ryanair was the largest carrier in terms of international capacity serving Ukraine and was expecting annual traffic of around two million passengers – a small proportion of the 165 million it has previously forecast for its whole network for the year to March 2023.
It did not base any aircraft in the country, instead serving four Ukrainian airports using Boeing 737-family jets based in Italy, Germany, Poland and Romania.
Those services are grounded for the "foreseeable future", O'Leary says, adding that the operator did not have any of its aircraft in Ukraine when the invasion began.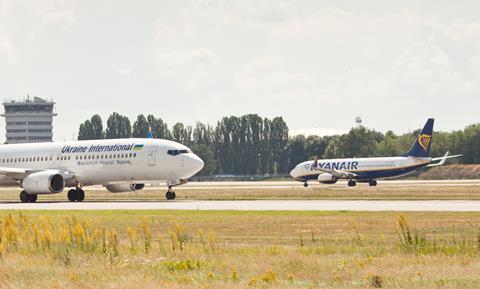 Aside from Ukrainian airspace currently being out of bounds, he notes that Russian forces "essentially disabled all the flight systems at the main Ukrainian airports" as a priority in the early hours of the invasion.
"I suspect it will take probably this summer and into next winter before those technologies can be restored at Ukrainian airports, when hopefully Ukrainians will have seen off the Russians and sent them back to where they came from," he states.
For now, aircraft previously operating on Ukrainian services will be "reasonably easy to redeploy" elsewhere in the carrier's pan-European network, O'Leary says.
Among other consequences of Russia's military action, the Ryanair chief highlights "a significant surge in bookings" for flights from Polish airports, as Ukrainian citizens leave their home country and seek refuge with friends and family elsewhere in Europe.
O'Leary says Ryanair is ensuring fares are kept low on such services and has also made a rare concession regarding its passenger-only focus by flying humanitarian aid to Polish airports free of charge.