"No JV, no TP," was how his predecessor bluntly explained how Embraer's mooted turboprop would not happen if a joint venture with Boeing failed to materialise.
Three years after the US giant jilted its would-be junior partner, Arjan Meijer – John Slattery's successor as Embraer Commercial Aviation's chief executive – says the prospect of the Brazilian company joining ATR and De Havilland Canada in the large regional turboprop segment is still very much on the cards. Only not just yet.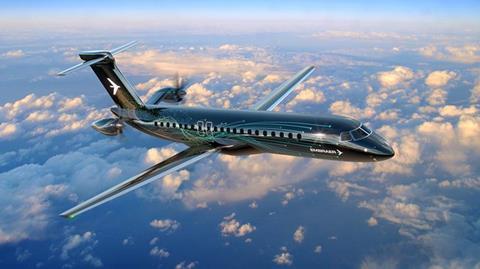 In December, the Brazilian airframer pushed back its launch decision, which it had earlier scheduled for the first quarter of 2023. It stated that suppliers – thought to include shortlisted engine providers Pratt & Whitney and Rolls-Royce – were unable to commit to performance targets for the prospective 70- and 90-seat aircraft pairing. However, Embraer said it would continue to work closely with potential programme partners through 2023.
Speaking to FlightGlobal, Meijer is keen to stress that the turboprop is "not on ice" and that the aspiration is still to unveil the aircraft – the first all-new large turboprop in decades – this year.
"We want to launch in 2023, but we need more time with the system providers," he says. While Meijer does not confirm this, one key decision is likely to be whether to go with a version of an existing engine or wait for newer technologies.
At last July's Farnborough air show, Embraer said it had secured more than 250 letters of intent for the turboprop, which would share a fuselage with the E-Jet regional jet family and enter service before the end of the decade. It has not disclosed any would-be buyers, but Meijer said at Farnborough that they represented a "global spread of customers in almost all continents and a very diverse mix of operators".
The hiatus comes almost three years after Boeing controversially pulled out of a $4.2 billion deal that would have seen the US company absorb Embraer's commercial aviation business as well as establish a marketing partnership for its KC-390 military airlifter covering key US export markets. Boeing's decision – at the start of the pandemic and amid the chaos of the 737 Max grounding – infuriated Embraer's board and appeared to threaten the very survival of the smaller company.
Since then, as with the rest of the industry, Embraer has had to ride out the Covid-19 crisis and the subsequent pressures on supply chains. After a 2022 in which there "was still some uncertainty" about market recovery, says Meijer, the commercial business is looking up. "People want to get out and travel, and airlines are again focusing on their fleets and how to get back to profitability rather than just how to survive," he says.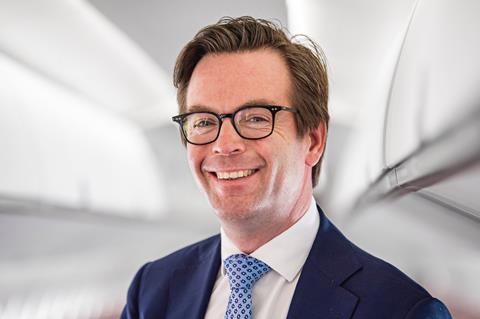 Meijer cannot say much about 2022 performance, as Embraer will disclose its full-year figures on 10 March, but "we're close" to the 60 to 70 commercial aircraft deliveries forecast for the year. By the end of the third quarter, the firm had delivered 27 E-Jets, down on the 32 it had shipped in the same period in 2021. However, supply chain glitches and a brief production halt to allow the commercial aviation operation to reintegrate into the broader business meant deliveries were "back ended".
Other Embraer businesses have also ridden out the turbulence. Executive Aviation, like the rest of that sector, thrived during the pandemic as many of those who could afford it turned to private flying. Embraer, still a relatively new player in business aviation, has products in the midsize/super-midsize and light jet segments, where its Phenom 300 remains the top-seller. By the end of the third quarter, it had delivered 33 Phenom 100 and Phenom 300s, and 19 of its Praetor pairing.
Embraer has faced a bigger challenge breaking into a new market with its KC-390. The failure of the Boeing deal has not helped export prospects, although the type has secured orders from Portugal – which will take the first of up to six examples this year – as well as Hungary (two) and The Netherlands (five). Those wins have been partly cancelled out by Embraer's domestic customer in October cutting its commitment by a further three aircraft to 19. Brasilia had originally ordered 28.
While the turboprop remains Embraer's highest-profile development, the company has continued to invest in new variants and research projects across its divisions. Last year, it partnered with L3Harris to develop a refueling version of the KC-390 that will be pitched at a US joint force requirement. In the burgeoning advanced air mobility segment, Embraer has spun-off its electric vertical take-off and landing (eVTOL) venture Eve as an independent listed entity, but retains a majority shareholding.
Energia, an initiative to develop a low-emission, small regional aircraft, potentially powered by hydrogen, will be a "focus point" for 2023, says Meijer. In December, the company showed four designs that it plans to take forward. Another major diversification has been Embraer's first passenger-to-freighter programme for the first-generation E-Jet, for which Nordic Aviation Captal became the launch customer – with an order for 10 conversions – in May last year.
Embraer, which will carry out conversions at its own facilities in Sao Jose dos Campos, has modest ambitions, believing it can secure a fifth of a market requirement for up to 700 aircraft capable of carrying around 20t of cargo. Meijer says the advantages of the E190 and E195 as freighters is their relatively young age – the oldest E-Jet entered service 19 years ago – and availability, as well as them serving a "missing segment" in the market between ATR freighters and narrowbodies.
Meijer hints at a Paris air show update on the turboprop. If Embraer goes ahead it would be a huge vote of confidence in a segment that has seen little innovation since the advent of the then-Bombardier Q400 and -600 ATR series early this century. In fact, back in the 1990s heyday of small regional jets, when fuel prices, carbon footprints, and low entry costs to the market were less of an issue, many were denigrating propeller-powered transports as yesterday's technology.
So will Embraer return to a commercial turboprop market that it departed 22 years ago when it ended production of the 30-seat EMB 120 Brasilia and shifted its attention to its 37- to 50-seat ERJ family, its first venture into the regional jet segment? "We do believe we can make it happen," says Meijer. "But only if we get to the right place."