Boeing has once again halted deliveries of its 787 Dreamliners due to what it calls "an analysis error" by one of its suppliers.
"In reviewing certification records, Boeing discovered an analysis error by our supplier related to the 787 forward pressure bulkhead," the US airframer said on 23 February. "We notified the FAA and have paused 787 deliveries while we complete the required analysis and documentation."
"There is no immediate safety of flight concern for the in-service fleet," the company says, adding that the error was discovered "within the past week".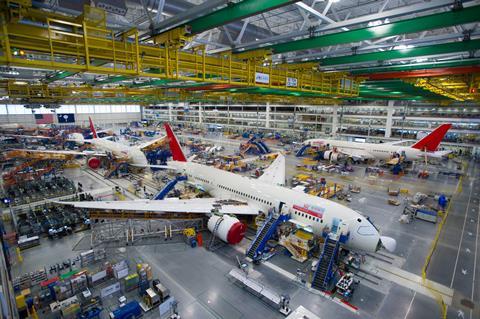 Production continues, Boeing says, "and this is not expected to increase airplane rework".
"While near-term deliveries will be impacted, at this time we do not anticipate a change to our production and delivery outlook for the year," the airframer adds.
"The FAA is working with Boeing to determine any actions that might be required for recently delivered airplanes," the Federal Aviation Administration told FlightGlobal on 23 February. "Deliveries will not resume until the FAA is satisfied that the issue has been addressed."
Last month the Arlington-headquartered company said it was aiming to achieve its goal – first disclosed in November last year – of delivering 70 to 80 787s in 2023. That volume would equate to average monthly 787 deliveries in 2023 of 5.8 to 6.7 jets.
Boeing had been working to recover the 787 programme from a manufacturing quality issue involving improper gaps between sections of the type's composite fuselage. The problem forced Boeing to stop deliveries for most of 22 months.
Boeing resumed the 787 deliveries in August 2022 after the Federal Aviation Administration approved required rework.
During the delivery pause, the company stockpiled undelivered 787s. It held 110 of the jets at the end of 2021, and winnowed the stockpile to 100 aircraft at the end of last year.
Last week, Boeing said it had delivered three 787s in January, one -10 to KLM and one -9 each to Lufthansa and Qatar Airways. It also logged orders for seven more of the widebody aircraft from an unspecified customer or customers during that month.