Airframer's commercial training vice-president Chris Broom believes move to competencies-based training and assessment will help create more resilient pilots and maintenance crew
Boeing is reporting progress in its shift to a competency-based assessment approach (CBTA) to pilot and maintenance training programmes, an initiative now already embedded in the manufacturer's own 737 training.
"Our biggest effort right now is around competency-based training and assessment," explained Boeing vice-president, commercial training Chris Broom, speaking during a briefing ahead of the Paris air show at Boeing Global Services' Frankfurt facility. The initiative is aimed at shifting from task-based training to one focused on developing competencies and which utilises available data to better tailor courses for pilots.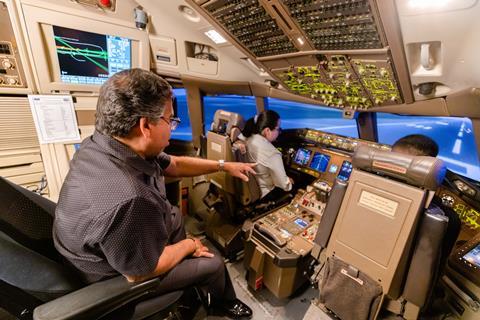 The aim of the CBTA approach is to create more resilient pilots and maintenance staff and it forms part of the wider Boeing Global Aerospace Safety Initiative. That in turn was born out of its response to issues stemming from the two fatal 737 Max accidents and subsequent prolonged grounding of the type which has seen Boeing assess its safety culture and processes.
Broom says Boeing recognises there is "a wide spectrum of people flying our aircraft and flying them differently". He adds: "So we had to make sure our training programme is comprehensive."
The CBTA framework is based around a range of nine pilot competencies. Broom says: "The competencies increases resilience of pilots, so when something goes wrong, you are more resilient and capable of reacting more easily. That is the goal of CBTA.
"Whether it's commercial pilot training, early career [training] or maintainers, we are implementing CBTA in all of these courses. Over time, all of these courses will have CBTA philosophy embedded in it and it's already being embedded in our type-rating and recurrent [training] courses."
Boeing began receiving the first regulatory approvals for its 737 aircraft about a year and a half ago. "Over 20 regulators have participated in our workshops for airline training leaders. We've had two regulators approve the 787 programme, and the 787 is with multiple [other] regulators for approval right now." He says it's a long process because they have to design the curricula for each aircraft programme, but that Boeing has a five-year plan to move all the fleets across to CBTA.
HOW DATA CAN SHAPE RECURRENT PILOT'S TRAINING
"It starts with the curricula," Broom explains. "As an example, our curricula on our Miami campus is actually longer than our task-based training and it's really based on data."
He highlights the importance of utilising operational data in supporting the CBTA approach, noting for example how this can help shape the structuring of an airline's recurrent training.
"If you think about a pilot's normal career at an airline, they start with type-rating training – so a long course, multiple-weeks of training to get a type-rating at the end of it. Their next training most likely is going to be recurrent training. In different parts of the world that can be anywhere between six to 12 months apart. When they come back, it is really important to collect data. Are you seeing a certain event? If so, do you need to train that more?
"The key with the recurrent training with CBTA is taking that data… and tailoring the course to fit the pilot's needs. So what you might see at a very well established airline might end up being very different than a start-up airline that has less experienced pilots."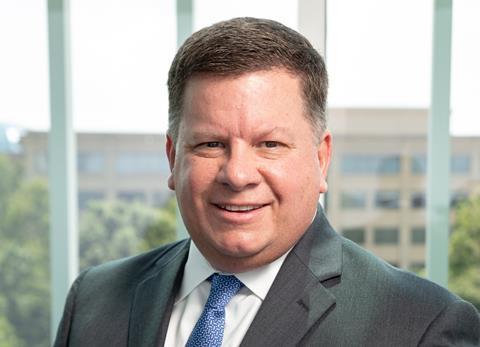 "We have to create a training programme for everybody. If it's a new airline with less experienced pilots, we have other courses we can offer," he says, to help bridge the gap. "The key is to have a standard, and make sure no pilot leaves training without reaching that standard."
Boeing is rolling out the new CBTA curricula at its own training campuses in Miami, London, Seattle, Shanghai and Singapore, as well as facilities in Delhi, Istanbul and Seoul.
However it is not just on its own campuses that Boeing is working to bring a more competency-based approach. "They [airlines] are still training their own pilots for the most part, but it is us helping them to do that. And it's a spectrum; it could be from an airline that wants very little help to an airline that really wants a lot of help in moving them to CBTA."
"For us the more people that implement this [CBTA], the safety bar raises," Broom says.