The US Federal Communications Commission has revealed a plan to bolster the reliability of communication links between un-crewed aircraft and ground-based aircraft operators.
The FCC says its plan, released on 4 January, will prepare the USA for a future in which more pilotless aircraft – from small drones to passenger-carrying types – are plying US skies.
Specifically, the FCC has proposed to grant pilotless-aircraft operators licenses to access bandwidth in the 5,030-5,091 MHz radio range.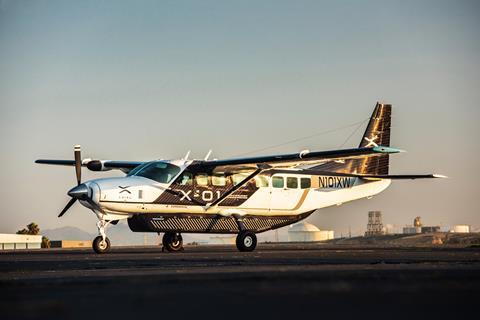 The licenses would apply specifically to wireless transmissions used to control aircraft. Drones are typically controlled wirelessly via transmissions from ground stations.
The agency has also proposed setting standards for such radio equipment, saying its plan will ensure the "reliability necessary to support safety-critical… communications links".
"As [pilotless] flights increasingly involve operations with a higher risk profile, such as flights that use large aircraft, carry heavy cargo or human passengers, or travel into the controlled airspace used by commercial passenger aircraft, operators have a growing need for the greater reliability that interference-protected licensed spectrum provides," says the FCC.
Un-crewed aircraft currently operate under "unlicensed or low-power wireless communications rules, or experimental licenses", the FCC says.
While small aerial drones are now commonplace, a number of companies are developing technologies needed to make large pilotless aircraft viable. Much work has involved autonomous flight systems, though designs also involve use of ground controllers. Air taxi developers are also working on pilotless concepts.
In 2021, NASA released a report saying that introduction of remotely-piloted passenger aircraft could spark a regional aviation renaissance in the USA. Such aircraft could take advantage of the country's vast number of underused airports, it said.
"It is past time that we assess the availability of wireless communications resources for the increasingly important remote-piloted aircraft activity," says FCC chair Jessica Rosenworcel. "The FCC must ensure that our spectrum rules meet the current and future spectrum needs of evolving technologies such as unmanned aircraft systems."
Additionally, the FCC's proposal lays out a plan that would grant operators of pilotless aircraft licenses to communicate via the VHF band with air traffic controllers and other aircraft. That change would help such aircraft better integrate into broader US airspace.
The FCC is accepting public comments about its plan for 30 days.