Safran Helicopter Engines and ST Engineering are to work together to study the use of sustainable aviation fuel (SAF) in the French manufacturer's turboshaft powerplants.
Detailed in a memorandum of understanding, the pact is designed to help "helicopter operators in their transition to SAF".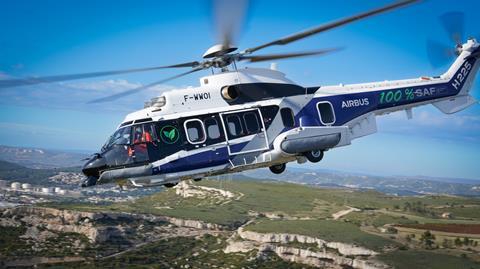 Ground testing of Safran engines using SAF will be performed at ST Engineering's facilities, while flight trials with participating helicopter operators will also be conducted.
All of Safran's helicopter engines are currently certificated to operate on up to 50% SAF blends and the objective of the collaboration is to raise this figure to 100%.
Safran and Airbus Helicopters last year flew a H225 heavy-twin with one of its two Makila 2 engines running on 100% SAF.
Valerie Patuel, managing director of Safran Helicopter Engines Asia, says: "This agreement strengthens the technical and industrial partnership we have built with ST Engineering over the years. It also marks a key milestone in our common endeavour to transform the aviation industry towards a more sustainable future."
Tay Eng Guan, vice-president and general manager of the commercial aerospace engines arm of ST Engineering adds: "The partnership also reflects our shared beliefs that aerospace companies must come together in joint efforts to develop robust solutions that can effectively reduce the industry's carbon footprint."