US government attorneys on 7 October argued in federal court that American Airlines feared being "pushed out" of Boston by JetBlue Airways prior to the companies partnering under their Northeast Alliance (NEA).
"We had been downsizing our network [at Boston]. I was trying to build a case to network planning that we need help, or we are going to be pushed out," American's regional sales director Paul Swartz wrote in a 2019 email to American's network planning executives.
A DOJ attorney presented that email and others during the government's antitrust trial against American and JetBlue. The DOJ has sued to force the airlines to unwind the NEA on grounds it lessons competition between them, violating antitrust laws.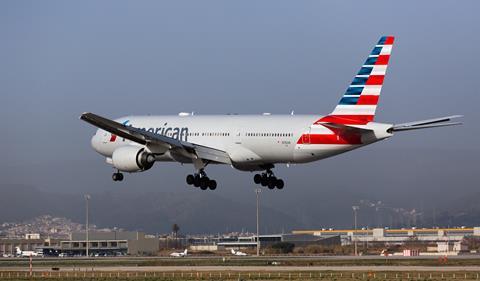 American and JetBlue revealed the NEA, which applies to flights from Boston and New York, in 2020. They said it will improve competition by helping them better counter larger airlines like United Airlines and Delta Air Lines.
In court on 7 October, DOJ attorney Maisie Baldwin presented documents from 2018 and 2019 – before the NEA took effect – in which American executives specifically discussed concern about competition from JetBlue at Boston Logan International airport.
At the time, American had recently cut service at Boston, leaving it, mostly, only with flights to its major hubs.
In 2018 messages, American network analyst Mike Domagala noted Delta recently increased its flights between Boston and Washington's Ronald Reagan National airport.
American's Swartz responded that his carrier's "big competition" on that route was actually from JetBlue, which was charging $100 fares. Swartz said he was unsure Delta – a higher-cost carrier – would match such a low fare.
In 2019 messages addressing the same route, Swartz wrote, "The problem is JetBlue going to 15 flights a day" and offering $99 fares to corporate customers.
"Boston does not perform as well from a profitability perspective as other cities, largely due to the fare destruction JetBlue has wrought," an American network planning executive wrote in a 2019 message.
Emails addressed other markets.
"We are not doing well since JetBlue entered" the Boston-Rochester market, Swartz said in a March 2019 message.
In court, Swartz said he had been trying to convince America's leaders to beef up their Boston presence to counter competition.
"You no longer compete with JetBlue?" the DOJ's Baldwin asked him.
"Yes", Swartz responded, clarifying his answer applies to Boston. "I was extremely excited to get new tools in the toolbox to fight against the competition, namely Delta."