Lufthansa Group will put all of its Airbus A380s and 10 of its A340-600s into long-term storage, only to be reactivated in the event of an "unexpectedly rapid market recovery", and will permanently remove the remainder of its A340-600 fleet from service.
The German airline group says that the outlook for international air transport has "significantly worsened" in recent weeks, forcing it to revise its capacity expectations downward.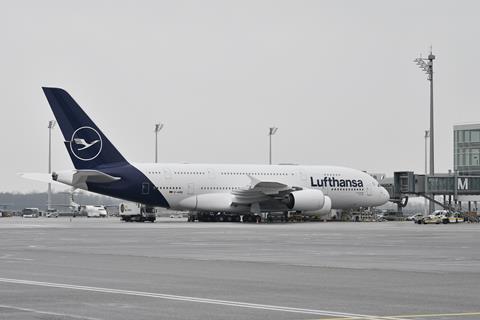 While it had previously aimed to offer 50% of its prior-year capacity on its long-haul network and 55% on short-haul in the fourth quarter of this year, Lufthansa now says it expects capacity to be "in a range between 20% and 30%", compared to the same period in 2019. As a result, it foresees a group-wide reduction of 150 aircraft "by the middle of this decade".
In addition to previously-communicated fleet cuts including the removal from service of six A380s in the spring, Lufthansa says its remaining eight A380s and 10 A340-600s "will be transferred to long-term storage and removed from planning". The remaining seven A340-600s will be "permanently decommissioned".
The aircraft removals will result in a further impairment charge of €1.1 billion ($1.3 billion), which will be accounted for in the third quarter of this year. The group took an impairment charge of nearly €570 million in the first half of 2020, including €300 million relating to the withdrawal of aircraft.
In August, the company said that the figure was connected to 65 aircraft which were being permanently grounded. These aircraft comprised six A380s and five Boeing 747s, plus 11 A320s from the Lufthansa mainline fleet, as well as a pair of Lufthansa Cargo MD-11Fs. It also previously announced that three 767s and 13 Bombardier Q400s were being removed from Austrian's operation, and that Brussels Airlines would take out two leased A330s and eight A319s, while Lufthansa's Eurowings division would withdraw 15 leased Q400s.
Lufthansa Group also plans to make additional job cuts on top of its previously-announced intention to slash the equivalent of 22,000 full-time positions. Management positions will be reduced by 20% in the first quarter of 2021, while office space will be reviewed worldwide and reduced by 30% in Germany.
Despite the worsened outlook, Lufthansa says it is still aiming for positive cash flows in 2021. In winter 2020/21, the group aims to reduce liquidity outflow to €400 million per month from €500 million a month.
"The continuing high level of uncertainty in global air traffic makes short-term adjustments to the current market situation unavoidable for the foreseeable future," says Lufthansa, adding that the expansion of pre-flight Covid-19 testing is "an essential prerequisite for the resumption of global mobility".