Thai Airways International is challenging lessors' claims for future rentals agreed under long-term lease agreements, according to a lawyer acting for some of the airline's creditors.
"Thai Airways is challenging the lessors' claims in part because the lessors' claims are a little bit different from other trade creditors," John Frangos, a Bangkok-based partner and deputy director at Tilleke & Gibbins' dispute resolution practice tells Cirium.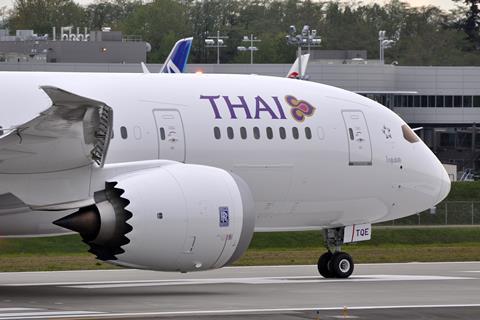 Frangos, who has been briefed on the airline's Thai-language restructuring plan by his colleagues who speak the language, tells Cirium that Thai is challenging lessors' requests for future payments under their lease terms.
"Let's say if you are an OEM or maintenance provider, and you did all this work for Thai two years ago, Thai defaulted and didn't pay you – you have those debts from those years. But with leases, it is my understanding some lessors have asked for the payments owed under the lease for the entire lease term. Thai is challenging their obligation to pay that."
The sum in question comes up to $7.4 billion, from dozens of aircraft lessors and engine service provider, Rolls-Royce, according to an 18 March Bloomberg report. Thai says it is not liable for the monies because they concern future expenses which will be incurred after the airline received bankruptcy protection from Bangkok's Central Bankruptcy Court.
Thai filed its rehabilitation plan to the Central Bankruptcy Court on 2 March. The plan has been made available to creditors, but has not yet been released in English, which is not unusual in local business rehabilitation, Cirium understands.
The court accepted receipt of Thai's application for business rehabilitation on 27 May, before approving it in September. Between then and 2 March, Thai's rehabilitation planners – a team of six individuals and EY Corporate Advisory Services – drew up a plan to return the carrier to profitability.
A meeting of creditors will be convened on 12 May and/or 19 May for creditors to vote on the rehabilitation plan.
Frangos says summons have started to be issued to creditors asking for their vote on the plan.
"Different creditors are approaching the plan from different perspectives. A lot will depend on how the major Thai banks and lenders view the plan. Most of the trade creditors will probably accept it because they are not getting any haircut. I'm not sure how the Thai lenders sit with respect to the plan and I think their decision will have an important impact on whether the plan is accepted."
Thai disclosed back in July that it had Bt71.6 billion ($2.4 billion) of outstanding debentures, a type of unsecured bond, due between 2020 and 2034.
Frangos also notes that, from what he and his team have seen, Thai has not given its debt a haircut. However, payment terms are spread out over years, with payments not starting until "a few years from now".
"It is still a fairly extended period of time," he says. "It's not like in three years creditors will receive their debt in full."