China Eastern Airlines has taken delivery of the first Airbus A350 to be fitted with a touchscreen option for the large displays in the aircraft's cockpit.
The initial aircraft to receive the option is an A350-900, MSN373, which is registered B-30CW.
FlightGlobal had reported last year that Airbus was testing touchscreen displays on an A350-1000, and certification by the European Union Aviation Safety Agency took place in November.
The technology is being introduced as an option through avionics specialist Thales. Some 20 carriers have selected the feature.
Three of the six 15.4in screens in the A350 cockpit can be adapted to include touchscreens. These include the two outermost screens – which normally show electronic flightbag information – and the lower of the two central screens, which normally contains the multi-function display.
Airbus test pilot Jean-Michel Roy says the electronic flightbag display can be swapped, through a single button-push, with the multi-function display. With the flightbag on the central touchscreen, both pilots are able to interact simultaneously with its features.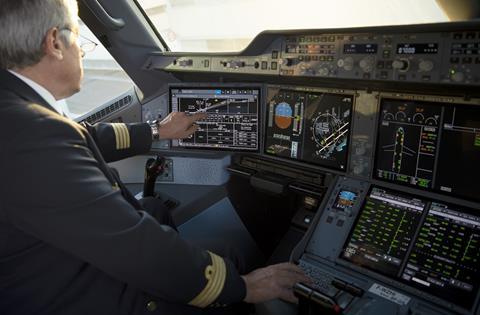 While A380 crews interacted with the flightbag through an integrated keyboard, the A350 also introduced a keyboard-cursor control unit – which includes a trackball to navigate a cursor between screens.
Roy says the touchscreen brings a third method of interaction for the crew.
"This allows the pilot to be more efficient, avoiding having to move a cursor between four displays all the time," he states.
Allowing both pilots to interact with the electronic flightbag reduces workload, he adds, simplifies cockpit management during demanding stages of the flight, including take-off performance calculation, en route chart access, and preparation for approach.
"The centre display can be controlled by both pilots – whereas before, only the one which had selected it could interact," says Roy.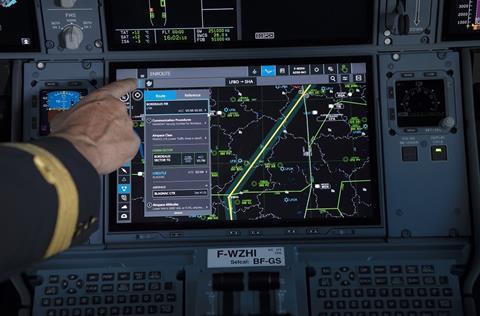 Roy points out that the A350 will retain the other methods of interacting with the displays, offering alternatives to pilots if conditions such as turbulence make touchscreen use more difficult.
"We are offering cheese and dessert," he says. "If I encounter turbulence, the [keyboard cursor control unit] may be more stable."
Airbus will offer the touchscreens exclusively on the A350 for now. It says there is a "certain level" of retrofit ability but the airframer is not planning to implement touchscreens as standard, preferring to reserve them as an option.