Cash-strapped UK aerospace manufacturers need the government to step up the funding available for research into green technologies or risk losing out to overseas competitors, a senior industry leader has warned.
Although the UK government continues to contribute through the Aerospace Technology Institute, the Covid-19 crisis has left many in the supply chain unable to fund R&D activities adequately, says Tony Wood, Meggitt chief executive and president of the ADS trade body.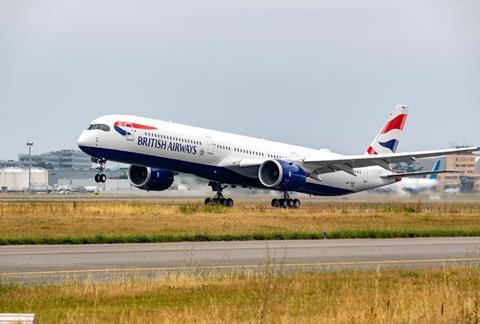 Wood, speaking today during a webinar to unveil interim decarbonisation goals for UK aviation, said that projects were currently "only funded to about 50%" of the level necessary and called for a "doubling of funding" from the government.
Pointing out that for every £1 of funding, another £10 is spent by the industry on R&D activities, he says there is a "phenomenal opportunity for government to invest", particularly "when even finding the pound will be quite a challenge for those companies with weak balance sheets".
Although thanking the government for the implementation of general coronavirus support initiatives such as Job Retention Scheme and the Covid Corporate Financing Facility, Wood points out that "eventually those schemes fall away and the industry still has its day of reckoning".
Companies with the biggest exposure to civil aerospace were facing "very difficult questions on investment", he says.
The development of technologies for tomorrow's aircraft is an opportunity for the UK to regain its position as the world's second largest supplier of aerospace products, Wood stresses, but says the industry needs to "move at pace".
Similarly, Sean Doyle, chief executive of British Airways, says that given the state of aerospace and airline balance sheets, the industry will be unable to "drive innovation on its own".
"The government will have to help the industry along this pathway," he says.
The latest interim targets announced by cross-industry body Sustainable Aviation will see a 15% cut in carbon dioxide emissions by 2030, and 40% by 2040, ahead of achieving net zero by 2050.
However, evaluations will take place over the next 12 months to see if the industry "can go further, faster and harder", says Sustainable Aviation chair Adam Morton.
It also calling for additional government support for biofuel production, "providing a demand signal and price support" which could lead to the creation of up to 14 waste-to-fuel plants by the mid-2030s.
Increasing the uptake of sustainable aviation fuel is seen as a vital short-term step towards decarbonisation while other technologies such as electric or hydrogen power are matured over a longer period.
BA already has agreements in place with SAF suppliers LanzaJet and Velocys which could see two new production plants established in the UK.
Grant Shapps, UK Secretary of State for Transport, speaking on a pre-recorded video, praised the industry for continuing to pursue decarbonisation goals "despite the serious economic impact of the past 16 months".
He says that those developing clean aviation technologies would soon "find themselves outcompeting the rest of the market" and would have "a huge commercial advantage".