US lawmakers have asked Federal Aviation Administration chief Steve Dickson for more information about how the agency responded to two issues related to the Boeing 737 Max.
Those include the in-operability of angle-of-attack (AOA) indicator "disagree alerts" on 737 Max delivered prior to the accidents and Boeing's "efforts to downplay" the Max's Maneuvering Characteristics Augmentation System (MCAS).
Peter DeFazio, chair of the House Committee on Transportation and Infrastructure, requested the information in a 29 November letter to Dickson. The head of the committee's aviation panel also signed the letter.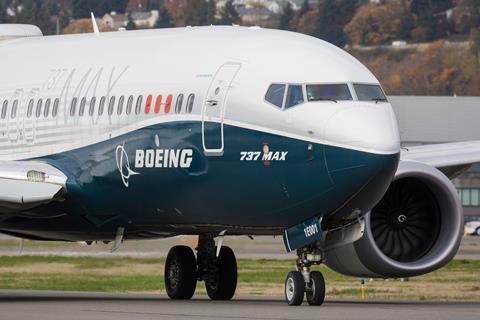 The request follow's Dickson's testimony before the committee on 21 October.
"During the hearing, two issues arose regarding your recollection of Boeing's past actions in which we would like to receive a more complete account from FAA," the letter says.
One issue relates to the AOA disagree alert, which warns pilots when the Max's AOAs have different readings. The letter notes that in August 2017 Boeing discovered the alert was inoperative on 80% of the Max fleet. But, the company at the time "decided to wait nearly three years to fix the problem", and did not notify the FAA or customers.
Boeing contended that the issue did not impact the jet's safety.
But, the letter says, "the non-functioning AOA disagree alert appears to have violated the 737 Max type design".
"What specifically has the FAA done to hold Boeing accountable for deceiving its customers and violating the FAA's regulations by knowingly producing 737 Max aircraft with non-functioning AOA disagree alert," the letter says.
Separately, the letter addresses what it calls an "explicit plan by multiple Boeing employees to downplay MCAS externally, including to regulators". Citing minutes from an internal Boeing meeting, the letter says Boeing did so to avoid regulators requiring pilots to receive additional training.
The letter asks Dickson if the FAA investigated "the circumstances or individuals involved in Boeing's 2013 plan to downplay MCAS". The lawmakers also request "records related to the FAA's efforts" and ask whether the FAA has held any Boeing employees accountable.
The letter requests a respond from Dickson by 13 December.
The FAA declines to comment. "We will respond directly to the committee," the agency says.