While Emirates and Flydubai made headlines with a series of major expansion announcements at the event, the Dubai air show underlined that growth is on the agenda for operators across the region – even those that did not order new metal over this week.
Emirates' orders for a further 95 Boeing widebodies and 15 more Airbus A350-900s, even if airline president Tim Clark is not ready to add A350-1000s yet, underlined its continued growth horizons.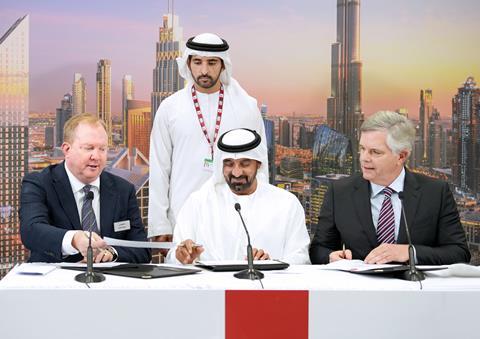 Not that the fresh order means Emirates is ready to give up on its Airbus A380s any time soon, after disclosing maintenance deals with the aim of operating most of its 123 in-service examples for as long as possible.
"We have to keep a careful eye on [the supply chain], so we're cannibalising some of the early aircraft and storing the parts," Clark says. "We'll try to keep 116 going for as long as we can. Back-end of the next decade, it'll drop to 90."
There was an eye-catching order for 30 787-9s from Emirates' sister carrier and narrowbody operator Flydubai, marking it's expansion into widebody services.
Both Emirates and Flydubai disclosed a number of agreements to support their growth, notably plans for major new MRO facilities in the Dubai World Central airport area.
Middle East carriers placed commitments for 158 aircraft this week, over a third of the orders at Dubai, Notably, all but the Flydubai order were for widebodies. That included fresh commitments from EgyptAir, Royal Jordanian Airlines and Royal Air Maroc.
Alongside EgyptAir's deal for 10 A350-900s, it is adding 737 Max narrowbodies to its fleet after agreeing to lease 18 units from Air Lease. This fits into the Star Alliance carrier's own five-year growth strategy.
"By 2028, we have ambitious plans to reach a fleet up to 125, both narrowbodies and widebodies," says EgyptAir Holdings chairman Yehia Zakaria. "For the network we hope to reach up to 100 destinations by 2028."
While Etihad Airways may not have been ordering any aircraft this time in Dubai, the carrier's chief executive Antonoaldo Neves was at the show mapping out its Journey 2030 strategy. The carrier, which this month moved into the newly opened Terminal A at Abu Dhabi airport, is back in growth mode and plans to double in size by the end of the decade.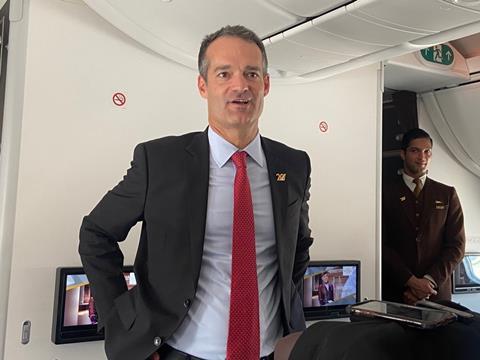 "We are taking a very business-oriented approach to our growth," Neves says. "We have a clear mandate from the shareholder. And the mandate is very simple. Deliver extraordinary customer service and at the same time, make money."
Neither was a narrowbody order forthcoming from ambitious Saudi start-up Riyadh Air, as the carrier opted for more tease than reveal over the planned deal. But a 787 on static display adorned in Riyadh Air colours – and the unveiling of a second livery – ensured the carrier offered a reminder of its plans, even if it is still 18 months away from launch.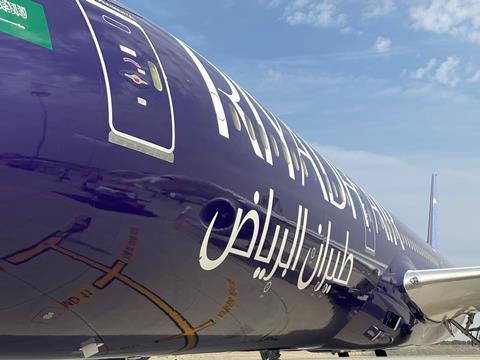 While Qatar Airways was as visible as ever on the static air display, showcasing an A350-1000, 787-9 and Gulfstream business jet, it was a lower-key event for the Gulf carrier, perhaps unsurprisingly given it was the first without long-standing chief executive Akbar Al Baker, who stepped down earlier this month.