Airlines are adjusting as best they can to the consequences of the Israel-Hamas war.
In global terms, the crisis has emerged in a period when airline stocks in North America and Europe had already been trending downwards from summer highs, reflecting factors such as rising fuel costs, some indications of demand softness, and concerns about the global economic outlook.
That said, early indications are that the third quarter was another strong one for many carriers in financial terms.
The length and breadth of the war will be a key factor in how those global trends develop in the coming months.
In terms of the immediate hit to connectivity, most international carriers have stopped serving Tel Aviv's Ben Gurion airport – promising regular reviews of that decision – with a few dropping extra capacity into destinations from which connections to Israel are still available.
In line with the global industry, Israel's connectivity heading into the war was within a few percentage points of parity with 2019 levels.
Indeed, Israel was a popular destination for a whole range of carriers going into the conflict, with around 30 operators offering at least 50 return flights to the country in September this year, Cirium schedules data shows. They include North American majors, the big European network carriers, Middle Eastern connectors and a host of low-cost carriers within narrowbody range.
Despite Ben Gurion airport still being open at this stage, decisions to drop capacity will be based on factors such as security assessments and the availability – and cost – of insurance for such services.
Airlines are operating in a capacity-constrained environment, so reassignment of capacity is not necessarily the challenge it might once have been. There will, however, be unavoidable costs deriving from the short-notice cancellation of services.
Local carriers continue to operate from Ben Gurion airport, with flag carrier El Al this week summing up the uncertainty that surrounds the impact of current developments.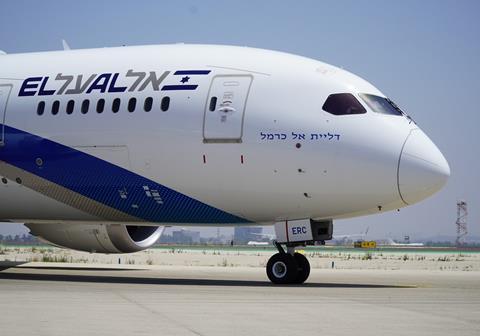 "The company is unable to estimate the scope of the… impact, among other things in light of the uncertainty regarding the continuation of the special security situation and its direct and indirect consequences for the company," it says.
As ever, those carriers operating closest to the unrest are most exposed to factors such as airspace restrictions, shifting passenger flows, demand reduction and the extra costs associated with a rapidly changing operating environment.
More broadly, Middle Eastern unrest has a history of pushing up oil prices, which is a potentially significant development for an airline industry that was already in danger of being knocked on to the back foot by jet fuel cost increases.
In that context, the third-quarter earnings season is prompting airline executives to discuss the potential impact of the war on the outlook.
United Airlines this week warned of a "transitory hit to margins this quarter" resulting from the cancellation of its services to Israel. Cirium schedules data indicates United was the North American airline offering most capacity into Israel leading into the war, at around 110 return services in September.
But United chief executive Scott Kirby – who says he is "heartbroken" by the situation in the region – adds when questioned about contagion into other markets: "We're not seeing that at all."
More commentary will follow in the coming weeks. Of that heard so far, Delta Air Lines chief executive Ed Bastian perhaps best summed up the uncertainty that currently abounds, stating: "We don't know how this will evolve yet."