Although cracks are starting to appear in the coalition providing vital military support to Ukraine's defensive war against Russia, the bloc's largest members remain committed.
The USA, Canada and the UK all announced new commitments of defence equipment in recent days, with particular focus on providing Ukraine with ground-based air defence systems.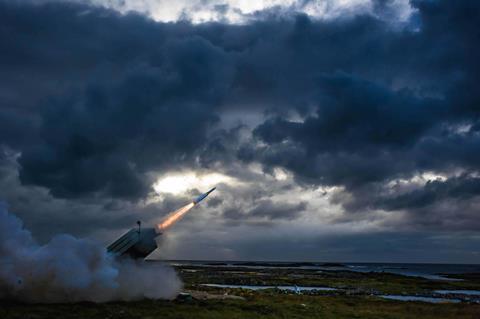 "Air defence will continue to be Ukraine's greatest need," US secretary of defense Lloyd Austin said on 19 September. Austin spoke following the 15th meeting of Ukraine Defense Contact Group, which is coordinating shipments of military aid to Kyiv from international allies.
Washington on 21 September committed an additional $325 million worth of defence-related assistance for Kyiv, including Raytheon AIM-9M Sidewinder missiles to power air defence systems and Boeing AN/TWQ-1 Avenger truck-mounted anti-aircraft missile systems.
Austin describes ground-based air defences as one of Ukraine's "biggest success stories" since Russia launched the invasion of its neighbour 19 months ago.
At the same time, Canada and the UK also renewed their commitments to furnishing Kyiv with air defence systems. Ottawa on 17 September said it will contribute C$33 million ($24.5 million) to a UK-led effort to deliver "high-priority air-defence equipment to Ukraine".
"Canada and the United Kingdom are standing with Ukraine, as it fights to defend itself against Russia's illegal and unjustifiable invasion," says Ottawa's defence minister Bill Blair.
The Canadian Department of National Defence says the funds will provide "hundreds of short- and medium-range air-defence missiles and associated systems required to protect Ukraine's critical national infrastructure".
But support is no longer flowing from all of Kyiv's recent backers.
Poland, which has been a vocal advocate for Ukraine within NATO and a regular supplier of defence items, now says it will pause arms shipments to its beleaguered neighbour.
Polish Prime Minister Mateusz Morawiecki on 20 September said his government is "no longer transferring any weapons to Ukraine because we are now arming ourselves with the most modern weapons".
Warsaw later walked back from the remarks, clarifying that Poland will still send ammunition to Ukraine, but not larger, more-advanced systems. The Polish government has already transferred 14 RAC MiG-29 fighters to the Ukrainian air force.
Poland is in the midst of a major expansion in defence acquisitions. Warsaw aims to spend the equivalent of 4% of Poland's gross domestic product on defence by year-end, with plans to acquire new Lockheed Martin F-35A Lightning II fifth-generation fighters, Korea Aerospace Industries FA-50 light fighters and Boeing AH-64E Apache attack helicopters.
Boeing has also pitched the latest F-15EX version of the venerable fourth-generation air-superiority fighter to Warsaw.
Pushback against supporting Ukraine with weapons is also emerging in Washington, where a group of right-wing lawmakers – rallied by former US president Donald Trump – are opposing direct aid and military hardware for Kyiv. The group is threatening to shut down the US government by blocking budget legislation.
The Pentagon initially warned that such a shut down would disrupt the flow of arms to Ukraine, but has since determined much of the support will be able to continue. This includes training of Ukrainian forces by US military personnel and the transfer of equipment from existing US stocks.
However, the furloughs to "non-essential" personnel could still impact or slow those activities. During previous government shut downs, government staff deemed essential to maintaining critical services or national security have been required to work without pay – including uniformed military personnel.
"We're committed to help Ukraine build a force capable of ensuring Ukraine's long-term security, capable of deterring future threats against sovereignty, territorial integrity and freedom, which are underway now," says US President Joe Biden.