De Havilland Canada has rolled out three new options for converting Dash 8-400 turboprops into cargo aircraft, a move coming as increasing numbers of used Dash 8s hit secondary markets.
The Canadian airframer has also revealed an increased-weight Dash 8-400 variant.
"We believe that the time is right to extend the lives of these aircraft," said vice-president of sales and marketing Philippe Poutissou on 18 July.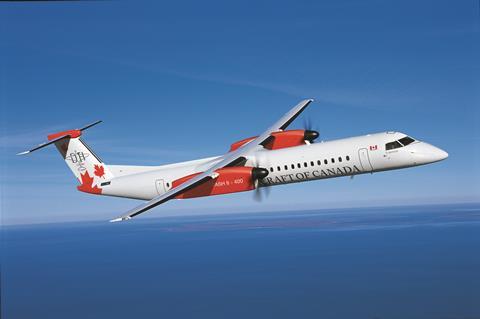 De Havilland Canada disclosed the product updates during the Farnborough air show.
During the pandemic, De Havilland Canada pivoted toward cargo by rolling out a relatively straightforward cargo conversion called the "Cargo Combi".
The newly released cargo options include a "Quick Change" conversion. It involves the installation of cargo nets in the passenger cabin and the addition of a fire-detection system, meaning the aircraft does not require flight attendants in the cabin, says Poutissou. Service entry is scheduled for year-end.
Another new variant is the Dash 8-400 "Package Freighter", which involves removing the aircraft's passenger cabin to free up more cargo space. De Havilland Canada pegs service entry by end-2023.
By the end of 2024, the airframer plans to introduce a full freighter variant of the Dash 8-400 option. It will have a large cargo door measuring 109in x 69in (2.8m x 1.8m), and be capable of carrying cargo pallets and containers.
The airframer says the three updates will be available through service bulletins, meaning they can be completed by airlines, maintenance providers, or De Havilland Canada itself.
Poutissou notes many Dash 8-400s are around 20 years old, meaning they are nearing the end of their lives as passenger aircraft. Also, airlines grounded some of the turboprops during the pandemic. As a result, increasing numbers of airframes are available for cargo conversions, he says.
Nearly 440 Dash 8-400s remain in airline service, with 140 in storage, according to Cirium fleets data.
Also during the air show, De Havilland Canada said it completed an engineering project that increases the Dash 8-400's maximum take-off weight by 907kg (2,000lb), and ups its payload capacity by 1,360kg.
"These weight increases significantly enhance the operational capability of the aircraft to carry more passengers, more bags, more cargo and more fuel, and provide more range," De Havilland Canada says.
The company is also working on increasing the Dash 8-400's aft baggage compartment payload limit by 272kg, it says.