Aeralis has added Stirling Dynamics to its team of partners involved in the design and development of a modular family of UK-developed light jets.
Signed at the Farnborough air show on 19 July, the agreement will see Stirling Dynamics "conduct loads and flutter analysis to support optimum aircraft design and to withstand the manoeuvres and conditions required initially from a jet trainer configuration", the Bristol-based airframe developer says.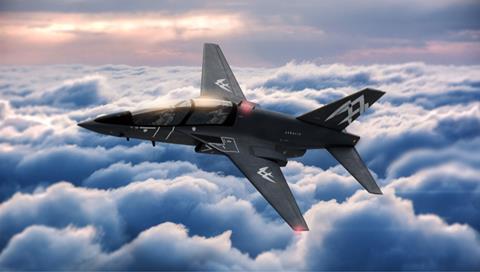 "We are delighted to have support from such a strong engineering partner, particularly one with so much expertise in complex and innovative engineering design," says Aeralis chief executive Tristan Crawford, who signed the agreement with Stirling Dynamics managing director Jeff Hoyle.
An Expleo Group company, Stirling Dynamics has provided specialist engineering services in support of more than 70 aircraft types since its formation in 1987. Its staff also will support Aeralis's aerodynamic design team, and "model the flight control system based on system requirements to size the flight control system actuators".
"We are proud to share our experience across the flight sciences to support the development of a game-changing and landmark new aircraft design," says Stirling Dynamics vice-president Bandula Pathinayake.
Aeralis will later this year conduct the preliminary design review for an advanced jet trainer demonstrator, and expects to conduct a first flight of the design during 2025.

Craig Hoyle joined Flight International in 2003, and has edited the now monthly title since 2015. He has reported on the UK, European and international military aviation sector for more than 25 years, and produces our annual World Air Forces directory.
View full Profile