A UK project to explore the potential of hypersonic propulsion received a major boost at the Farnborough air show, with plans announced for a flight-test activity to take place later this decade.
Announced by Reaction Engines, Rolls-Royce, the Royal Air Force's (RAF's) Rapid Capabilities Office and the UK Defence Science and Technology Laboratory on 18 July, the Hypersonic Air Vehicle Experimental (HVX) activity will employ a reusable platform to demonstrate Mach 5-plus performance.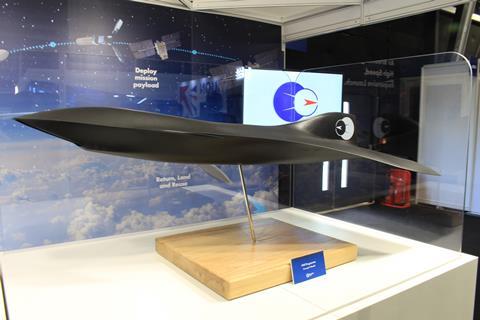 A 'Concept V' HVX vehicle – to be scaled around the size of a BAE Systems Hawk trainer – will be flown for the first time "well within this decade", says Air Vice-Marshal Linc Taylor, the RAF's chief of staff, air capability.
"One of the things we believe will have value in changing the way we fight is reusable hypersonics," he says. The experimentation will provide "the evidence as to whether this plays a part in our future orbat [order of battle]", he adds, while declining to reveal potential operational applications for such a capability.
Reaction Engines chief executive Mark Thomas says HVX will draw on the company's precooler and combined-cycle engine technologies, and knowledge gained from its SABRE project.
"The project has set off at high pace and we expect to maintain that throughout this demonstration phase," he says.
The company is already testing its technology in advance of integrating it with an unidentified donor engine.
"Thermal management is a real game changer," notes Rolls-Royce director of future programmes John Wardell.
Craig Hoyle joined Flight International in 2003, and has edited the now monthly title since 2015. He has reported on the UK, European and international military aviation sector for more than 25 years, and produces our annual World Air Forces directory.