China Eastern Airlines appears set to operate the first commercial flight of the Comac C919 twinjet in the coming days, some five months after taking delivery of the aircraft.
As reported by Reuters and since verified on the airline's website, China Eastern on 26 May added flight MU9191 to its schedule: a C919-operated Shanghai Hongqiao to Beijing Capital service that departs at 10:45 on 28 May. A return flight that afternoon – MU9192 – is also listed as being operated by a C919.
Should the first flight take place, it would be an important milestone for the Chinese programme, as the country seeks to introduce a serious rival to the Boeing 737 and Airbus A320 narrowbodies.
After years of programme delays, the first C919 was delivered to China Eastern on 9 December 2022 and the carrier has since been working on a 100h proving effort.
Tracking data shows the aircraft – registration B-919A – has flown several sorties over the past few days.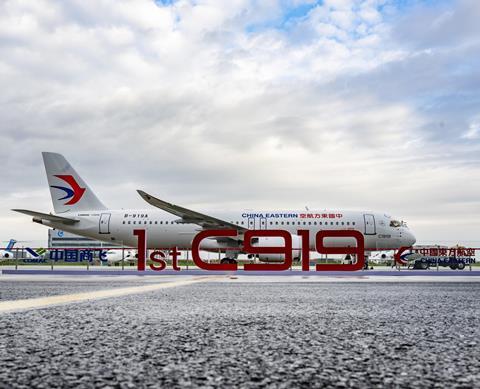 The airline had added the C919 to its commercial schedules for late Feburary, also under flight number MU9191, but tracking data shows the service was operated by an A320. That came amid reports of issues with the aircraft that were delaying its entry into commercial service.
Cirium fleets data shows that the C919 has garnered over 1,000 commitments, almost entirely from Chinese airlines and lessors.
Although a Chinese programme, the C919 is reliant on western systems, including its CFM International Leap-1C engines.