Kaman's unmanned K-Max Titan helicopter flew for the first time on 21 April.
The helicopter was controlled from the ground with a safety pilot on-board during its debut flight, Kaman said on 26 April.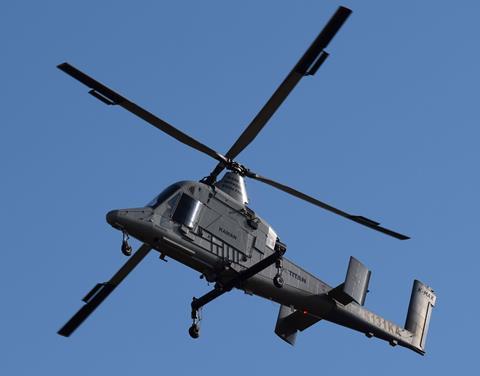 The manned version of the K-Max is a small, single-engined helicopter with two counter-rotating, inter-meshing rotors. The helicopter is capable of heavy lifting – up to 2,720kg (6,000lb) in a sling-load configuration. The rotorcraft is frequently used in remote locations for missions that include water drops on wildfires, moving timber and hoisting power-line towers.
Kaman says the unmanned variant is intended to expand the operating envelope of the helicopter to include "any location and any type of weather". The unmanned helicopter could be used for firefighting, humanitarian assistance or distributed logistics, the company says.
"When the job is high, hot, dirty or dangerous, the K-Max will be ready to fight fires, deliver life-saving supplies or perform the mundane operations that call for an unmanned, heavy-lift helicopter," the company has said previously.
The company believes it can achieve US Federal Aviation Administration certification of the K-Max Titan in the next 18-24 months.
The manufacturer expects to make an announcement about the first delivery of the K-Max Titan "soon".
The autonomous system can be retrofitted as a kit into manned versions of the K-Max, creating a so-called optionally manned aircraft. Kaman has said it has orders for the autonomous flight kits from Helicopter Express and Swanson Group Aviation, both current K-Max operators.
Kaman entered the world of autonomous flight with an earlier unmanned variant of the K-Max that was used by the US Marine Corps (USMC) in Afghanistan in 2011 for cargo resupply. The autonomous flight control system for that helicopter was made by Sikorsky.
The company recently contracted with the USMC again on further demonstrations of an unmanned K-Max, this time based on the Titan system. That helicopter is using Near Earth Autonomy's sensor-based autonomy suite, a hardware package that creates a 3-D image of the surrounding environment.
Flight testing of the USMC K-Max Titan is scheduled to begin in summer of 2021. "Future flights could include other autonomy testing, such as airborne networking," says Kaman.