Whether it is devastating forest fires in Siberia, a decade-long drought in Chile, or unprecedented floods in China's Henan province and in Germany, the evidence of rising greenhouse gas emissions on our planet is plain to see.
For many, at both an individual and business level, the issue of tackling climate change and what that means to our behaviour is increasingly becoming part of our daily lives and workplace agendas.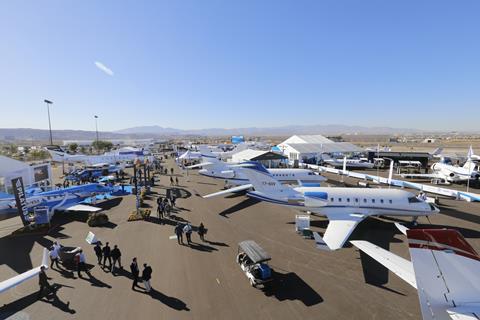 2021 may be looked back upon as the year when not only did the Covid-19 pandemic finally come under control, but also the point when climate change was properly recognised as a crisis requiring urgent action.
In aerospace, where all sectors are working towards a world where they use less fossil fuel and pay for the carbon they emit, the business and general aviation industry believes it is playing its part, and will use the NBAA-BACE event to demonstrate its commitment and leadership on sustainability.
It is an issue that has seen the industry globally coalesce as one, especially around the need to develop and promote the use of sustainable aviation fuel (SAF). "When you see the business aviation associations of Europe, North America, at the international level, GAMA [the General Aviation Manufacturers Association], the OEMs and many others, coming together with one voice on sustainability, that is a huge indication of the support behind this important technology to deliver sustainable aviation," Kurt Edwards, director general at the International Business Aviation Council (IBAC), tells FlightGlobal.
Business aviation leaders are quick to point out that the industry has taken a leadership stance on sustainability for years, delivering the "important milestone" of the Business Aviation Commitment on Climate Change (BACCC) – promising to reduce the sector's impact – as long ago as 2009, explains Edwards.
The sector's association heads and thought-leaders across industry are discussing – with the emphasis on doing "our best to provide some level of analysis" – whether the 2009 commitment should be updated, and made more ambitious, says Edwards.
STANDARD TARGET
There are two main issues. The first is whether business aviation should align its commitment with what is fast becoming the standard – net zero greenhouse gas emissions by 2050. As it stands today, the BACCC commits to halving CO2 emissions by 2050 relative to 2005 levels.
That goal is a challenge, considering the progress of SAF and technologies envisaged at present, but is possible, says Edwards. Today, he notes, although the analysis is "terribly fuzzy" looking 30 years ahead, the industry's thinking is that net zero could possibly be achieved by 2060-2065 without using carbon offsetting, according to the BACCC assumptions.
This brings about the second issue. For business aviation to commit to an ambition of net zero by 2050, "we would need much greater availability of SAF, important leaps in aircraft technology and be able to use offsets to some degree," says Edwards. In real terms, this would mean the sector using all these tools to eliminate far more CO2 emissions than planned.
Explaining the targets and ambitions – and how to meet them – to the sector is the critical, and complex, job of the IBAC and all the associations. "Our message to operators is we need to find some way to make this not just affordable to them, but deliverable to them. They need the ability to operate to their sustainable goals and work with [SAF] producers to make this happen. We can set the targets, but ultimately everyone will have to agree to that ambition," says Edwards.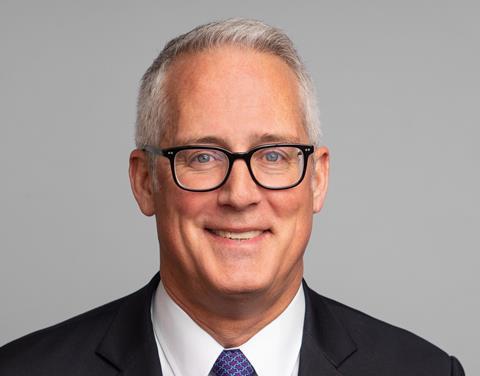 Discussions are under way about updating the industry's sustainability commitments and the question will be prominent at the show. In that respect, and for an industry super-keen to meet face-to-face once again and to show off its green credentials, NBAA 2021 comes at a good time.
Stewart D'Leon, director, technical operations at NBAA, says there are three sustainability initiatives planned at the show. The first will see the third summit meeting of the Business Aviation Coalition for SAF, made up of all the associations plus leading industry players; an in-person event in Las Vegas to educate and promote the use of SAF.
The second will be the launch of an NBAA accreditation programme, to "further advance a sustainability culture in business aviation organisations and recognise those that meet or exceed specified criteria". Organisations will be able to obtain separate accreditations in four areas: flight, operations, ground support and infrastructure.
PRACTICAL HELP
"We have been working on the NBAA Sustainable Flight Department Accreditation Program for over a year with a pilot programme featuring a number of operators," says D'Leon. Two of these have been the flight departments at US corporations Adobe and Starbucks. "They have been helping us refine the programme. We have been getting significant interest."
The development of the first, formalised programme for sustainability is exactly the type of work NBAA is renowned for with its practical assistance for operators, and will help make it a regular "doing business" topic, rather than something out of the ordinary.
The third feature of NBAA will be a practical one for exhibitors, who will be encouraged to sign up to a "green pledge" to help make the actual show more environmentally friendly (see p55).
After a two-year hiatus, NBAA offers an in-person opportunity for all to provide updates on their sustainability progress.
"Bombardier expects environmental issues to be front and centre at NBAA-BACE this year – and as an active member of the SAF Coalition, we recognise how increasingly important the environment has become to CEOs and flight departments, airframe and powerplant manufacturers, suppliers and indeed across the entire general aviation segment and business aviation sector," the airframer says.
While Bombardier will keep the specifics back for the show, "our overall engagement at NBAA-BACE and our announcements will demonstrate the company's unrelenting commitment to sustainability", it says.
"Sustainability and the journey to net zero will be an essential part of our show appearance," says Rolls-Royce. "Of course, our Pearl engine family and its newest members, the Pearl 700 for the Gulfstream G700 and the Pearl 10X for the Dassault Falcon 10X, will be the focus of interest for our customers."
With its PW800 family of engines, used on Gulfstream's G500 and G600 and the Falcon 6X, delivering a 10% increase in fuel efficiency, Pratt & Whitney Canada (P&WC) is 100% committed to the industry's goals to "significantly reduce CO2 emissions and to drive even further efficiency from propulsion technology", says vice-president marketing Irene Makris.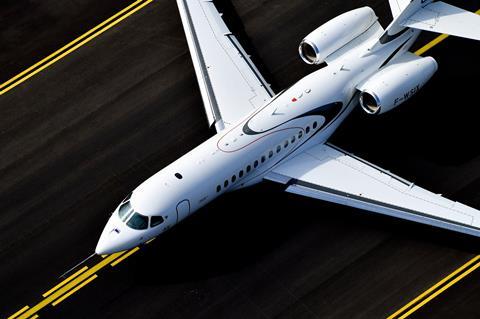 "This commitment is demonstrated in our efforts to make current products environmentally 'best in class', bring customers options through our carbon offset programme, maximise the use of SAFs and invest in new technologies and architectures that increase engine efficiency," says Makris.
ABSENT GIANT
Gulfstream, which has been pioneering sustainability for years and was an early adopter of SAF, has chosen not to attend NBAA this year, although it will return. "Gulfstream has made the decision to not attend NBAA-BACE or any large event this year. Our customers have shared that their preference is for smaller events right now, and we are hosting those accordingly," it says.
NBAA has always been the fairground for major aircraft launches, with business jet makers working on a cycle of a new airframe every decade or so, compared with the 20- to 25-year cycle of Airbus and Boeing. "The competitive side of business aviation, with five mainstream OEMs and two to three peripheral ones, has undoubtedly driven development at such a pace," explains Dan Hall, senior valuations consultant at Ascend by Cirium.
"The latest advances in aircraft development have been about greater range and greater size. With aircraft such as the G700 and Bombardier Global 7500 the industry has finished that mission," says Hall. The pace of development will not necessarily slow down, he believes, but with the range and size targets achieved, there is an opportunity for a switch to environmentally-focused initiatives.
"What is the next battleground? It is not going to be an operating cost issue, it is going to be in green technology," believes Hall.
The engine OEMs are working hard on two sustainability-related fronts: research and development into hybrid and electric engines, and pursuing the approval of their engines for use with 100% SAF.
Although announcements specific to business aviation are scarce, the R&D efforts can be applicable to all aircraft classes.
"Most recently, we announced a $163 million investment in a hybrid-electric demonstrator project for regional aviation, backed by the governments of Canada and Quebec," says Makris. "Targeting a 30% reduction in fuel burn and CO2 emissions, and flight testing in 2024, this demonstrator will show the potential of hybrid-electric propulsion technology to set new standards for sustainable aviation. We are confident this potential will eventually extend beyond regional aviation to other segments as well."
R-R has been busy in the urban air mobility (UAM) and commuter markets. "We announced that we will power Vertical Aerospace's new [VA-X4] all-electric UAM aircraft and that we joined forces with Tecnam and Wideroe to deliver an all-electric [P-Volt] passenger aircraft ready for service in 2026."
"We are also quite busy in the electrification of the small propeller market. The impact in the long-range, large-cabin business aviation market will be rather evolutionary," R-R says. "We will see SAF-powered, 'more electric' engines that are able to deliver more electrical power which can then be used to power certain secondary systems – for example, mechanical/hydraulic systems. We are well positioned for all the coming opportunities."
OFFSETTING COURSE
Several of the OEMs also offer carbon offsetting services. In May, R-R launched SAFinity, which will initially cater for business aviation users, enabling them to invest directly in SAF. P&WC recently launched a Carbon Offset Service, tied to its Eagle Service Plan maintenance programme for business jet engines. "We expect demand for carbon offsetting to grow, and we are actively working on expanding this service to other engines within our portfolio," says Makris.
There will be plenty of SAF-related news at NBAA, as more fixed-base operators, such as Signature Flight Services, and fractional operators like NetJets, move as quickly as possible to offer it to customers. Users, too, as they seek to meet their Environmental, Social and Governance targets and drive towards net zero by 2050, will be asking how the industry is able to help them.
After a long wait, the show will be a celebration as the industry gathers once again. However, amid the talk of new aircraft orders and a return to growth, the discussion around sustainability and the environment will never be far away.
Putting the show's green agenda in action
Shows and exhibitions can represent something of a throwaway affair – a lot of people travel to a pop-up event for a few days and then it disappears, leaving a lot behind (and material that is rarely used again). NBAA is taking a lead as a show organiser, to bring a greater degree of sustainability to events with its "green pledge".
"NBAA is engaging its exhibitors to be more sustainable – shows can produce a lot of waste, but it doesn't have to be that way," says Edward Bagsic, its senior manager of conventions, VIPs and budgets.
The organiser has produced 30 guidelines that exhibitors can follow to reduce their carbon footprint – such as ordering local food for their chalets, or not using "build and burn" booths – and is asking participants to pledge to use at least five of them.
About 30 companies had signed up to the initiative by mid-August, and more will join as the green pledge scheme expands both at this show and at future events.
"When we started thinking about the 2020 show it was always top of mind to make a meaningful sustainability project on the ground to match the industry's sustainable initiatives in the air," says Bagsic. "NBAA 2021 will be the most sustainable show we have done, and we believe we are one of the first shows in aviation to be doing this."