Honeywell has developed a new line of avionics that the company says is lighter and more intuitive than current systems and that significantly advances the state of avionics connectivity and autonomy, potentially one day allowing for fewer pilots in the cockpit.
The company revealed its new "Anthem" flight deck on 5 October.
Anthem can be adapted to any class of aircraft – from small in-development air taxis to general aviation types, business jets to commercial airliners, Honeywell says.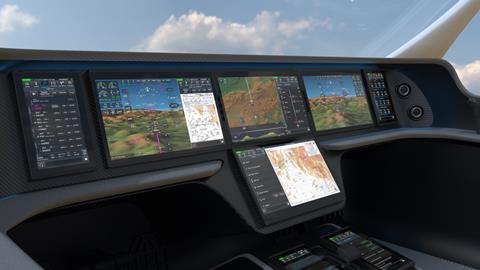 "Anthem was designed from the start with connectivity and autonomy as its core tenets. It was built for a future that enables increasing levels of autonomy," it adds.
Honeywell gave Anthem advanced data-transmission capabilities and safety features that include "3D airport moving maps", track-based synthetic vision and a "3D runway overrun alerting and awareness system". Such technologies can help prevent ground collisions and other runway accidents, Honeywell says.
The company describes Anthem's user interface as "intuitive as a smartphone".
"It will look like a cockpit, but from a behavioural experience, it will feel like smartphone," Honeywell vice-president and general manager of avionics Vipul Gupta tells FlightGlobal. "It's a transformational change."
Honeywell says on 5 October that two customers – air taxi developers Lilium and Vertical Aerospace – have chosen to equip their aircraft with Anthem. German firm Lilium is developing its seven-seat Lilium Jet, and UK-based Vertical is developing a five-seat air taxi called VA-X4. Those companies aim for their aircraft to be operating commercially in 2024.
Honeywell has not disclosed additional Anthem customers.
Gupta says the company remains dedicated to its current-generation avionics, citing its Primus Epic product. But he says previous technologies cannot match Anthem.
"Any proposals we are doing right now, we are doing with our Anthem flight deck," he adds.
Honeywell is among a handful of companies battling in the avionics industry. Its Primus Epic system is found on some of the sector's largest, most-capable business jets – Gulfstream's G500, G550, G600, G650 and in-development G700, for example. Dassault's Falcons, including the French airframer's in-development 10X, also have Primus Epic. Commercial aircraft including Embraer's first- and second-generation E-Jets have Honeywell avionics.
Top competitors are Collins Aerospace, which provides its Pro Line-based flight deck for Bombardier's business jets, and Thales.
Anthem, the fifth generation of Honeywell's integrated avionics systems, is 50% lighter than current-state avionics, says Gupta.
Honeywell achieved that reduction partly by making Anthem's backbone a "system on chip" – an integrated circuit that performs various functions and consumes less power than older technology.
"You don't need to have big boxes and cooling systems. It allows us to reduce the size," says Gupta. "None of the integrated flight decks have it today."
Computing power comes from multi-core processors (each with four cores). That is not unique; other avionics have multi-core processors, though they do not run all available cores. Anthem will, however, use all four processor cores. That technical talk simply means Anthem will have significant processing speed, Gupta says.
Processing can be scaled up by adding "distributed processing modules", which are "about the size of a paperback book" and can be located anywhere a manufacturer chooses on an aircraft, Gupta says.
LIKE A SMARTPHONE
Anthem has a "secure cockpit browser" feature that can run applications developed by third parties like aircraft manufacturers. Examples include weather apps, apps used to perform specific calculations and apps that generate a "synoptic page" – a visual summary of aircraft information.
Honeywell designed Anthem's touch screens to be intuitive by taking cues from the consumer electronics sector. Previous-generation avionics respond to text commands entered by pilots. But Anthem uses "visualisation and modern graphical- and gesture-based" interfaces. That means pilots can access information by touching icons on cockpit displays; the system responds to finger "swipes".
Pilots can still enter text via what Honeywell calls a "scratch pad"; the system responds to such inputs with suggested prompts. It all eases the process by which pilots find and enter information and complete cockpit tasks, Gupta says.
CLOUD CONNECTED
Honeywell calls Anthem the industry's "first always-on, cloud-connected avionics". The system transmits data from the aircraft to the ground, and from the ground to the aircraft. Ground-based servers can send data to "any person involved in a flight's operation", says Honeywell.
"Things like maintenance data, flight plans and overall aircraft status are stored automatically by the avionics in the cloud and are accessible by any authorised user from anywhere," Gupta says.
The system is "agnostic" in how it transmits information, he adds. Data can be sent via high- or low-speed satellite systems, or via cellular networks, Bluetooth connections or high-speed wireless internet.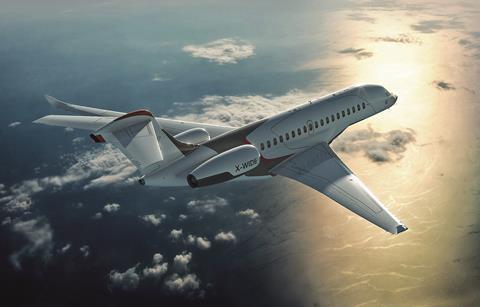 The company stresses that Anthem's advanced data-transfer capabilities can reduce pilot workload. The system can integrate with pilots' flight-planning applications. Pilots can "create and transmit flight plans to the aircraft from anywhere", and onboard system can remotely load flight plans – a feature Honeywell calls an industry first.
Through Anthem, pilots can send messages to ground-based service providers, ensuring fuel companies or caterers, for instance, are available upon landing.
Honeywell describes connectivity as key to Anthem's advanced autonomy features. It says the system can automate manual pilot tasks and be upgraded over time to perform "increasing levels of autonomy".
Movements are already underway to develop large aircraft that can be safetly operated with fewer pilots. In 2020, Mark Cousin, then-chief executive of Airbus innovation arm Acubed, told FlightGlobal his team was developing autonomy under the assumption that "the next generation of single-aisle aircraft will be single-pilot capable". At the 2019 Paris air show, Steven Udvar-Hazy, executive chair of aircraft lessor Air Lease, called on airframers to ensure their next models can be updated over time to be flown by one pilot.
With Anthem, Honeywell is ready, Gupta says.
Anthem has ability to support eventual single-pilot operations – meaning a single pilot flying an aircraft that now require two pilots, like business jets and single-aisle airliners. Anthem can also support "reduced-crew operations" – a term that applies to larger jets like widebodies. Today, such aircraft require four pilots for some long-haul international flights. But with Anthem, three pilots could be sufficient, Gupta says.
Complete flight autonomy seems unlikely any time soon, especially considering the hurdle of winning over regulators. (Even eVTOL developers – which some people argue need full autonomy to make air taxis commercially viable – are first building piloted versions of craft they intend to eventually make autonomous.)
But Anthem could allow that, too.
"Anthem is designed to grow, adapt and support additional automation, leading to complete autonomous capabilities in the future, as regulations allow," says Gupta.