IAG chief executive Luis Gallego is calling for action in re-opening the US-UK aviation market after plans for a taskforce to study the opening up of the market emerged.
US President Joe Biden and UK prime minister Boris Johnson were due to discuss the reopening of the transatlantic during talks today after announcing a working group to "explore options" for resuming UK-US air travel.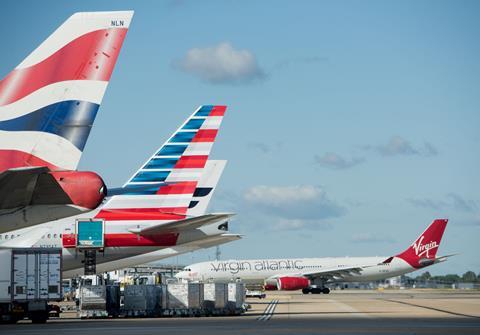 Speaking during an Airline CEO panel debate Airlines for Europe's Aviation Summit 2021 today, Gallego described the move as a first step. "But we need actions. We've had taskforces before, what we need now is to open the corridor as soon as possible."
IAG, which counts British Airways among its carriers, has been among airline groups from both sides of the Atlantic to press for a lifting in travel restrictions in this key market.
"We don't see a reason why the US-UK corridor cannot be open, when you see the successful roll-out of vaccines in the two countries," Gallego says. "The problem is the UK is reaching a critical point, and we need the safe restart of travel, we need to reboot the UK economy, we need to protect jobs. Because if we don't reopen this important corridor, it is going to effect jobs."
Speaking in the same panel discussion, Air France-KLM chief executive Ben Smith adds that he is optimistic of progress, not least because one of the carrier's home markets, France, on 9 June began allowing fully-vaccinated visitors from the USA to enter the country without restrictions.
"Today, if you live in the US, you can come over into France and if you are vaccinated, there are no restrictions, you can come right in. And if you are an American citizen living in France and want to go back to the US, you are invited.
"We are just waiting for European residents to be able to do the same. We are looking for reciprocity. But I'm optimistic that now we have it in one direction, it should be in the other direction."
Lufthansa Group chief executive Carsten Spohr similarly expects the market to reopen before long. "Let's all hope the US Administration takes the 4th July – the day they rightly celebrate themselves, to also invite the world, or Europeans, in. We [will] get the airplanes ready as of the 5th of July."
Gallego adds that he is encouraged by the optimistic view of EU Justice Commissioner Didier Reynders that an EU agreement with the USA could be reached for the start of July, outlined in pre-recorded interview which was also part of Aviation Summit programme.
Reynders highlighted the recent political agreement by EU ministers, which paved the way for EU states - as France did - to allow fully vaccinated travellers to enter without quarantine restrictions.
"You need to think about the situation at the beginning of the summer, not now, but in one month. And of course we will have a higher rate of vaccination on both sides.
"We have the regulation, it is clear because we have the political agreement. We have the technical solution, so the digital tool at the EU level and member states, and we start the discussion with our US colleagues. And it will be possible to have an EU-US summit mid-June, because Biden will be in Brussels, and it will be possible to show we are in a good position."
While he notes that good position is dependent on there not being a negative development in control of the virus, he adds: "I am quite confident we will have a positive evolution due to the vaccination campaign."