Two of the 27 people on board an Antonov An-26 military transport survived after the turboprop crashed in eastern Ukraine on 25 September.
The aircraft crashed in Kharkiv Oblast, a region which borders Russia to the east and the separatist area of Donbass to the south, at around 20:45 local time and caught fire.
By 21:53 the fire had been extinguished, says the Ukrainian state emergencies service.
The cause of the crash has not been confirmed, but Kharkiv Oblast governor Oleksiy Kucher says he received information that the pilot had reported failure of the left engine.
But Kucher adds that such a failure is "not a critical situation" for an experienced pilot, and that the circumstances of the accident will be determined by the investigation.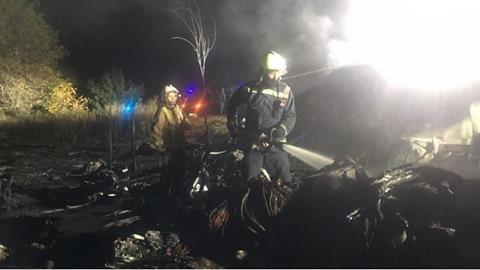 The accident happened during the aircraft's approach for landing, says the Ukrainian defence ministry. It came down about 1nm (2km) from the airfield.
"It is reported that, in addition to the crew, cadets of the Ivan Kozhedub National University of the Air Force were on board," says the ministry.
"The leadership of the ministry of defence, the armed forces of Ukraine, and all personnel express their deepest condolences to the relatives and friends of the fallen servicemen."
The Ivan Kozhedub National University of the Air Force is located in the city of Kharkiv, not far from the crash site.
The defence ministry states that 20 of those on board were cadets.
Both the air force and the university have identified the aircraft as an An-26Sh variant, bearing the military number 76. The university and the Chuhuiv base are linked to the 203rd aviation training brigade.
Eastern Ukraine has been a hotbed for Russian-backed separatist activity. In 2014, Malaysia Airlines flight MH17, a Boeing 777-200ER, was shot down with a surface-to-air missile in the Donetsk Oblast, which is about 250km south-east of where the An-26 crashed.
To investigate the cause of the An-26 crash, the government of Ukraine says it has established a joint commission that includes the defence ministry, ministry of internal affairs, a local state government official and the country's deputy prime minister.
"The area of the catastrophe is surrounded and controlled by servicemen from the Military Law Enforcement Service in the armed forces of Ukraine," says the defence ministry.