Airbus is studying blended-wing airliner designs as a means to cut CO2 emissions by more than 20% and has already test flown a sub-scale model as part of its research efforts.
An initial sortie of that test article took place in central France in June 2019, with Airbus using the effort to improve its knowledge of the advanced fly-by-wire technology required to control such aircraft.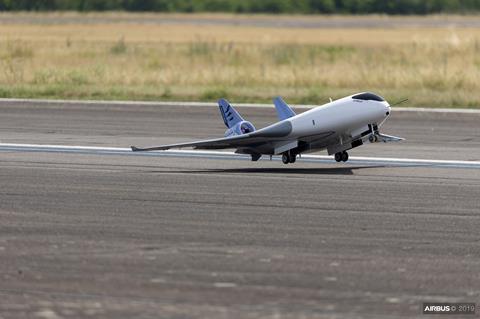 Airbus plans to continue the flight-test campaign with the remote-controlled model until mid-2020. The sub-scale test article is 2m (6.6ft) long and 3.2m wide, with a surface area of about 2.25sq m (24sq ft).
Airbus calls the development programme Model Aircraft for Validation and Experimentation of Robust Innovative Controls, or MAVERIC for short.
Blended-wing technology is of interest to the airframer because it is more efficient than standard tube-and-wing designs. The company is increasingly convinced that flying-wings are feasible because of the improvements in fly-by-wire and lightweight structural technology.
"We do believe it's time now to push this technology further to study what it can bring to us," says Jean-Brice Dumont, executive vice-president of engineering at Airbus. "It is achievable. It's a challenge, obviously… but I think we are up to it."
Airbus aims by 2050 to reduce CO2 emissions from its products by 50% against 2005 levels and thinks a blended-wing aircraft, combined with other technologies, might be one of the best paths to reaching that goal.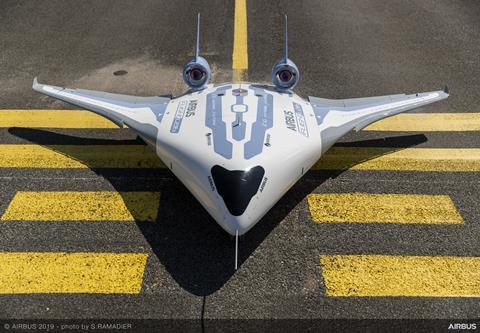 The model development started in 2017 and was initiated because Airbus believed it did not have enough first-hand knowledge of flight controls for such designs.
"Our models for flying wings are rather inaccurate," says Dumont. "We have already learned a lot because it helped us understand the flight behaviors which is the core of what we need to study."
Airbus believes flying physical models and demonstration aircraft will increasingly be part of its research and development efforts. "We more and more believe in demonstrators to accelerate technology development," says Dumont.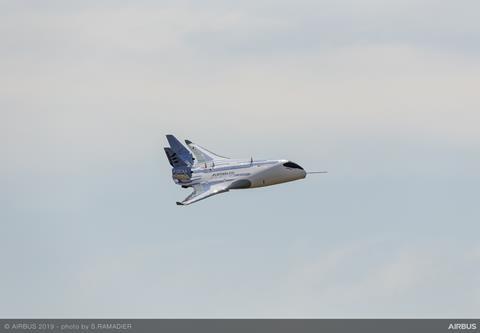 The airframer also says it is leaning on fly-by-wire know-how developed for combat aircraft to control the intrinsically unstable flying-wings.
MAVERIC has two ducted fans mounted within its twin vertical stablisers, a stand-in for turbofans, but Airbus says it is considering other propulsion systems. The company believes it could eventually merge distributed hybrid propulsion technology being developed on its EcoPulse demonstrator with its flying-wing effort.
"We are always mixing the propulsion system and the aerodynamic formula," says Dumont. "What's the best fit for a blended-wing body?"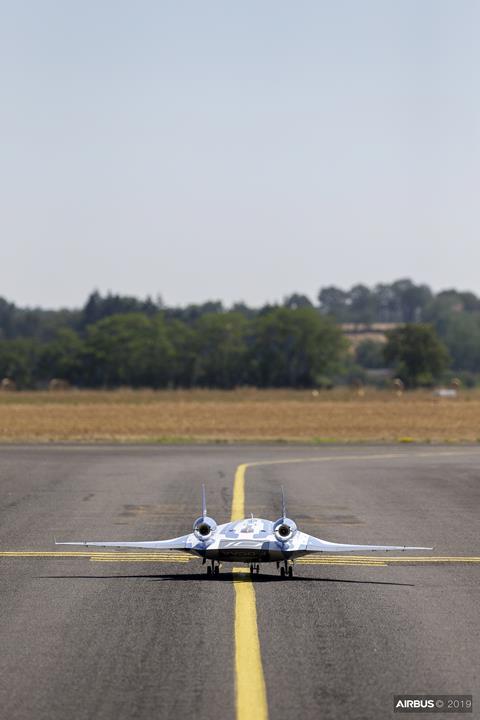 Airbus declines to say what class of commercial airliner would most likely to be replaced by a flying-wing or what the seat count could be.
"It's more likely to be the successor of smaller aircraft than a very big one," says Dumont. "For the equivalent seat count of [a tube-and-wing] aircraft the footprint of such [flying wing] aircraft is much smaller."
In addition to continuing flight tests through the early part of 2020, Airbus plans to further study safety, manufacturing, maintenance and airport integration issues related to flying-wing airliners.