UK budget carrier EasyJet is taking steps to ensure it and suppliers have sufficient workers to meet a further pick up in demand as the airline aims to return to pre-pandemic capacity next summer.
"The recruitment process started earlier than ever. We have something like 2,100 positions to fill from a cabin-crew point of view; 1,500 are recruited and signed up," EasyJet chief executive Johan Lundgren says during a fiscal year 2022 earnings call today.
EasyJet earned a record £674 million ($807 million) adjusted profit (excluding interest, taxes, depreciation, amortisation and leasing costs) in the fourth quarter of FY2022, which ended 30 September. That was insufficient to prevent the airline from posting a £178 million FY2022 pre-tax loss – but marks a significant improvement from its £1.1 billion pre-tax loss in the previous fiscal year.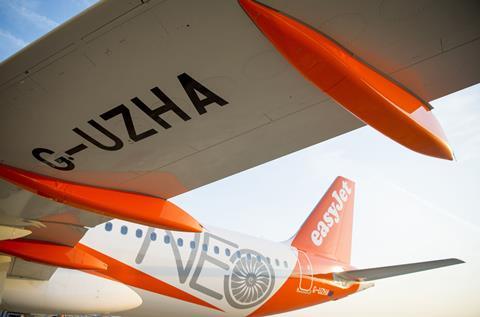 The strong quarterly performance was achieved on capacity at 88% of pre-pandemic levels. The airline aims to fully restore 2019 capacity levels in its financial fourth quarter next year – covering July to September.
However, disruption this summer added £78 million to EasyJet's costs, prompting the airline to prepare now for a smoother summer 2023, says Lundgren.
He notes that labour challenges differ "in certain regions, where we see that the labour market is tighter than in others. The Gatwick area and [UK] southeast continues to be demonstrating quite a tight labour market. But generally we are on track with what we are looking to recruit and we are in general over-subscribed across the rest of the network."
EasyJet's David Morgan, the director of flight operations who has been filling the role of chief operating officer since Peter Bellow left in July, has now been confirmed in the role permanently.
"We saw some challenges, particularly earlier in this summer, with labour shortages right across the industry," Morgan says. "We are taking the opportunity this winter to invest into that.
"On the cabin crew [side], which was one of the most-challenging areas last year… we already have several hundred cabin crew in the pipeline going through the process at the moment," he says. "From the pilots [side], we are in very good shape. We've got a very good cadet programme with our partners… and we are completely on track and have full pilot numbers for next year."
EasyJet is also adding resilience to other parts of its operation and tracking how third-party suppliers are faring.
"We saw they were also coming under a lot of stress. There was hardly a bit of business that wasn't impacted by that," says Morgan. "We are kind of all over them with their recruitment plans to make sure they are keeping pace with early recruitment and getting the right numbers there, so that we've got confidence of delivering a great operation next summer."
Lundgren notes that during winter last year, when the Omicron Covid-19 variant hit, EasyJet adapted to an environment that made network planning difficult. "Now, we feel pretty confident… we are going to see these levels coming back to us," he says.
While EasyJet has returned capacity slower than have European low-cost rivals, Lundgren stresses the airline has retained its market position at key airports.
"There has been quite a lot of talk of other low-cost airlines coming into our positions at the primary airports," says Lundgren. "But… compared with pre-pandemic, we haven't seen a big shift in the head-to-head competition with low-cost carriers" due to airport constraints.
"In a number of cases we are winning those positions that become available as the legacy airlines are pulling out of there," Lundgren adds. "It is a great position to be in, and we have a significant cost advantage against all the main operators, whether that is legacy airline or other low-cost airlines. A five-plane operation from Wizz can't compete with our 80-aircraft operation from Gatwick from a cost point of view."
Lundgren also sees opportunity to improve EasyJet's cost advantage and market share at slot-constrained airports by replacing A319s with A320s and A321neos, which have more seats and better efficiency.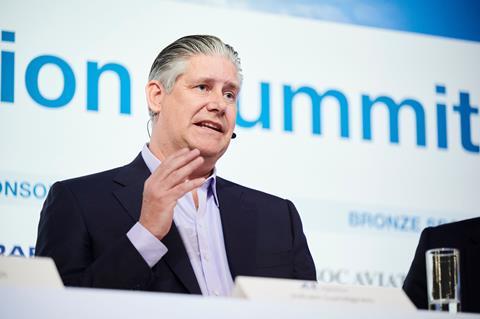 EasyJet operates 59 A320s and A321neos, and has a further 168 on order, including 33 of the larger A321neo.
EasyJet chief financial officer Kenton Jarvis says: "This order book is driving… our up-gauge opportunity, as our mix of A319s will continue to fall, with around 40% of our A319s set to leave over the net three years. This is a huge opportunity."
The airline had 320 Airbus narrowbodies as of the end of September, and aims to operate 336 of the jets next year and to up to 346 by September 2025. Part of its planned fleet and workforce ramp up for next summer reflects its intention to replace seven aircraft it had wet-leased during the recent summer peak.
"Whilst we retain flexibility to downsize the fleet if required, we are not constrained by the fleet numbers in this [plan], as we can look to externally source… aircraft that go beyond this," says Jarvis.
EasyJet earlier this year ordered 56 more A320neo-family jets, for delivery between 2026 and 2029.
"In terms of Neo aircraft, it is pretty tight supply. They are pretty much sold out to [2027-2028]," says Jarvis. "They have, like everyone, some supply chain issues… but we are pretty confident on the deliveries we have from them."
He adds that mid-life A320ceos are available, and that EasyJet has added some of those over the last year.