An airline's ability to invest in new aircraft and other measures aimed at mitigating the industry's environmental impact will become a "differentiating factor" in the future, according to Finnair chief executive Topi Manner.
Noting that the issue of sustainability will "come back swinging" in the post-pandemic world, Manner told FlightGlobal during an 8 October interview that meeting the challenge depends on "balance sheet strength" and "how strong you come out from the crisis".
"The investment capability for new aircraft, synthetic fuels, hydrogen, you name it… will be a differentiating factor," Manner states of the future industry landscape, having noted that Finnair has developed a "financial bazooka" of measures to survive the coronavirus crisis.
Pre-pandemic, sustainability became one of the biggest challenges facing the airline industry – particularly in Europe, where some government airline bailouts in recent months have included environmental stipulations.
Finnair's own ambitious targets around sustainability – "we want to go carbon-neutral by 2045 and… by the end of 2025 we want to reduce our carbon footprint by 50%" – mean that the carrier is still eyeing a narrowbody order in the coming years.
"We are sticking to these goals amidst the pandemic… that also means that since new, more fuel-efficient aircraft are probably the biggest lever in our roadmap towards those goals, then we are keeping it on the agenda," Manner states.
In the "short run" an order is "not on the cards", he adds, because the airline currently has too much capacity.
"But then, looking medium term, three to four years, something like that, then the narrowbody order is definitely still on the agenda," Manner explains.
There has been speculation about Finnair placing a narrowbody order for a number of years. As things stand, Finnair's only outstanding commitment is for three Airbus A350s, although the airline is "in talks with Airbus on deferring these", Manner confirms.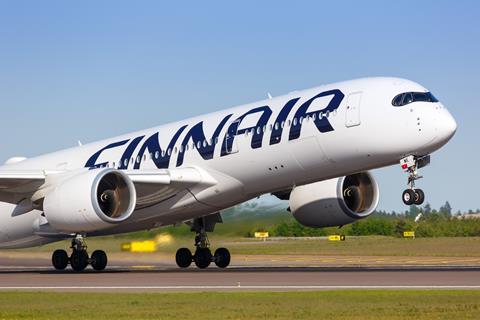 In March this year, Finnair stated that "new aircraft are more fuel efficient than older models… this will help us to cut between 10% and 15% of emissions from European flights".
It set out a number of other initiatives to achieve its sustainability targets, including new ticket categories allowing passengers to book flights with a charge for carbon offsetting or for support of biofuel – which the airline would match. It is also implementing a range of weight- and fuel-saving initiatives, and has become a partner of Finnish sustainable fuel specialist Neste.
Finnair's mainline operation went into the crisis with 61 jets in service, Cirium data shows, comprising eight A319s, 10 A320s, 19 A321s, eight A330s, and 16 A350s.
A full interview with Topi Manner will be published on FlightGlobal Premium and in the next issue of Airline Business